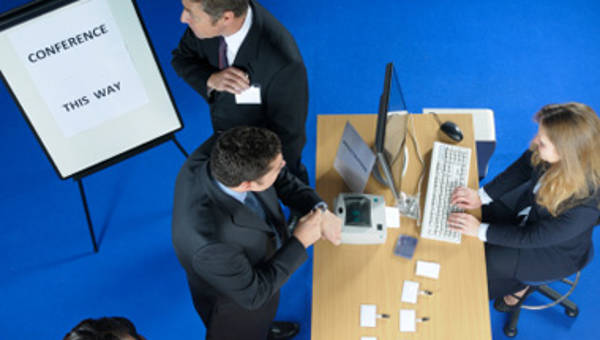 With documents such as a event registration form and liquidation reports along with the many organizers running around keeping everything in check makes for a hectic and complex situation. The process of planning and executing one event takes a group of people who are willing to give time and effort into making sure that the event is successful.
For event organizers that are handling their first event planning project, it may seem overwhelming given the fact that they had no prior experience. Gaining experience is one way of learning the tricks and the trade of event planning but having a set of rules in parts of event planning such as guidelines for registration is indeed helpful.
Conference Vendor Registration Forms
Annual Conference Vendor Registration Form
Spring Conference Vendor Registration Form
Sample Conference Vendor Registration Form
Conference Exhibitor Registration Form
Spring Conference Exhibitor Registration Form
Conference Sponsorship Exhibitor Registration Form
Land Conference Exhibitor Registration Form
What Is a Conference Registration Form?
Even in the process of event planning, there are lot of things that goes into making a successful event. Competent team members are recruited to become event organizers and aid in bringing the event to life. Various documents are important in recording information needed for the event planning and the event itself.
An example of a document used in this circumstance is a registration form. These forms can differ according to the use it caters to. For example, Hotel Registration Forms keep track of hotel guests while a conference registration form keeps track of the attendees and participants of a conference.
How to Create a Conference Registration Form
Potential attendees and participants of a conference event plan on attending an event to get insights from the participants or speakers on stage, to meet new people who are also enthusiastic about the conference, and for the participants to have more experience in public speaking.
Compared to School Registration Forms which records the information of students within a school, a conference registration forms is directed towards conference attendees. When a registration form is given to the attendees, the first thing they write down is there general information. Next, their interest in membership is asked along potential fees if they join.
Conference Pre-Registration Forms
Pre-Conference Seminar Registration Form
Fall Conference Pre-Registration Form
Example Conference Pre-Registration Form
Annual Meeting Pre-Registration Form
Professional Conference Registration Forms
Professional School Conference Registration Form
Professional Women's Conference Registration Form
Professional Practice Conference
Different Conference Registration Methods
The concept of event planning has been generally the same throughout time. The only difference of how events were planned and handled before compared to current times is the incorporation of technology and electronic methods in some parts of event planning and during the actual event.
The traditional method of an individual registering for an event or a program would be to manually fill up a registration form. Travel Registration Forms, Company Registration Forms, and Camp Registration Forms have been administered using the traditional method which means interested applicants would have to go to a designated location in order to start the registration since the designated location is the only source for the registration form the person is looking for.
This method may be applied to a conference event and be called an onsite registration since the registration form are distributed at the venue of the conference.
Another registration method conference organizers may utilize is the advance registration form. This type of registration can be used because it gives interested conference attendees the chance to avail a more affordable registration fee in exchange for an early registration from the potential attendee. This registration method can attract more attendees since it presents an appealing offer in connection to the conference event.
To keep up with modern times, event organizers attempt to incorporate technology into parts of their event planning process and for the event itself. This effort brings in another type of registration method called the online registration method.
Online registration brings another option for attendees which is perceived to be more accessible and convenient in comparison to the other registration method. Event organizers are tasked to create an online version of the conference registration form they are using for the event. Attendees just head to the website, fill in the form, and click the submit button.
Conference Delegate Registration Application Forms
Conference Local Delegate Registration Application Form
Sample Conference Delegate Registration Application Form
Women's Conference Registration Forms
Professional Women's Conference Registration Form
Conference Registration for Women
How to Handle Conference Registration
Event organizers create subgroups of organizers that are delegated with tasks in different parts of the event. For example, in the administration of Church Registration Forms, there is a group of people assigned to handle that particular task.
In the situation of a conference event, there is a team delegated to the registration process of incoming attends on the day of the actual conference. The post of the registration team is at a table placed outside the venue of the conference. The organizers in this post should exhibit an approachable demeanor, professionalism, and a pleasant personality in order for attendees to feel at ease.
How to Design a Conference Registration
When registration forms such as a Customer Registration Form is being sought for, people will likely head to the registration section. The design process of the conference registration entails the physical appearance of the registration and the possible impressions it gives incoming attendees.
Like all designated posts and booths in a conference event, the registration post should look simple and decent at face value. Decorations and signs may be placed to emphasize what the post or booth is for as well as to attract attendees by making the registration booth an indicator that conference is being held in the venue.
National Conference Registration Form
Example National Conference Registration Form
Conference Registration Form in Doc
Event Conference Registration Form
Middle School Conference Registration Form
Dance Conference Registration Form
State Conference Registration Form
Conference Registration Form Templates
Marriage Conference Registration Form
Invoice Conference Registration Form
Research Conference Registration Form
Conference Pre-Registration Form in Doc
General Conference Registration Form
Guidelines for Making Conference Registration Forms
The conference registration is considered to be the first thing attendees and participants see. With the registration booth being the front line of their event, it is important for attendees to get a good impression of the group of organizers acting as the registration staff as well as the conference registration forms being given to the incoming attendees.
The format of any registration form can influence the impression it leaves as well as how much effort the respondent will put into answering the registration form. For example, in a school event, students and teachers are both given their own respective registration forms.
These registration forms would be Student Registration Forms and copies of a Teacher Registration Form. If both registrations form do not seem clear, is not understandable, and is tedious to fill up, both the teacher and student will find the school event's registration process to be more of a hassle than a convenience.
The goal of the registration process is to systematically the attendees' information and organized them into the event organizer's records. In order for the conference registration form to be positively viewed, its should contain all necessary items in order to obtain all the necessary information and be presented in a simple, clean, direct, and understandable manner.