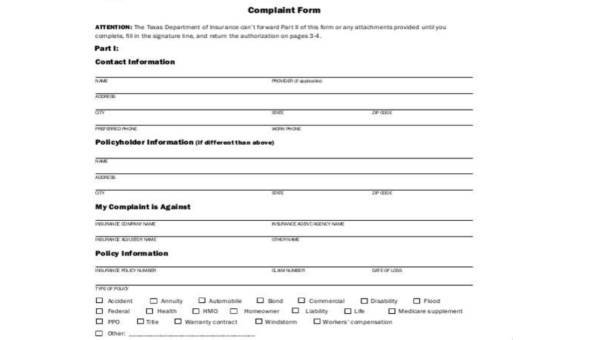 In the world of business and marketing, customers have become more powerful than ever now that they have the internet and gadgetry as weapons to criticize a business. Word of mouth has never been more efficacious than ever. When customers are satisfied with their experience, your business will be recommended on their social network where it can then lead to the progression of your career.
But if your customers are unsatisfied with the service or the quality of those products you presented to them, they will be unhappy. They'd still rabbit on about your business potential, but with annoyance plastered on their faces. Which is why there are Complaint Forms that they can use to vent out these frustrations.
Free Customer Complaint Forms
Customer Service Complaint Form
Customer Feedback Complaint Form
Customer Complaint Report Form
Free Employee Complaint Forms
Free Personalized Employee Complaint Form
Employee Discrimination Complaint Form
Employee Harassment Complaint Form
Free Divorce Complaint Forms
Divorce Complaint Form in PDF
Free Legal Complaint Forms
Blank Legal Complaint Form
Legal Aid Complaint Form
Free HR Complaint Forms
HR Complaint Intake Form
HR Complaint Investigation Form
Free Tenant Complaint Forms
Tenant Harassment Complaint Form
Tenant Complaint Form in PDF
Business Complaint Forms
Small Business Complaint Form
Sample Business Complaint Form
Esteban Koklsky, the founder of thinkJar who is renowned for being a genius in the science of customer experience, stated that the percentage of unsatisfied clients who spread their rants about a particular issue to the mob is about 13%. People are programmed to remember worst cases of their experiences than the best ones.
Complaints, grievances, or client feedback, in general, are essential to all companies because these allow you to gather valuable customer insight and enable you to distinguish areas that you can improve on. Here's a list of reasons why having a complaint system is necessary:
1. Cognizance Pays. Self-preservation is a natural tendency, human perception is almost always under the influence of our own biases. Business owners, in the same way, tend to be reluctant in finding out how customers feel exactly about a product. However, knowing how your client felt is significant regardless if they are ranting, raving, complaining, or congratulating you.
2. Feedback Creates Room for Growth. In a perfect world, your business strategy and customer service handling would be spotless and up to par. However, this is not a perfect world and the way you handle your business could be flawed. Having an efficient system for handling complaints is necessary for you to detect areas that need to be improved on. Complaint Forms should always be available in the event that a customer has an issue that could ruin his or her experience in an establishment. Knowing that, these places can know what the problems that future customers may encounter and fix them.
3. Aids in Identifying Faults and Mistakes. Remember the old adage that says, You can be the ripest, juiciest peach in the world, but there will always be someone who hates peaches This is also applicable to business. No matter how you watch over the management and handling of your products like a hawk, there will always be at least a 1% chance that errors or mistakes will be committed. Not everyone is perfect as there's always a chance that a faulty product makes its way it to store shelves. So in the event that a customer complains about these, you'll have the opportunity to correct these mistakes by improving the system that checks on the quality of the products.
4. Calibrates Management Processes and Handling. Most big companies have established complaint management procedures. Through periodic evaluations and complaints submitted by customers from time to time, the method of overseeing customer complaints is then tested as well as the skills of your customer service crew. This will then help in identifying areas that require improvement so that proper tools and training can be provided.
5. Provide Opportunities for Growth. There will be times when employees take these complaints as something negative, but that shouldn't be the case. They can use these complaints to figure out the strengths and weaknesses of the establishment and act accordingly. If there are many complaints about customer service, then the employees may use the Complaint Forms to figure out just what they have to improve on how they handle their customers.
Environmental Complaint Forms
Environmental Management Complaint Form
Environmental Health Complaint Form
Victim Complaint Form
Victim Complaint Form in PDF
Discrimination Complaint Forms
Employment Discrimination Complaint Form
Industrial Insurance Discrimination Complaint Form
Discrimination Complaint Processing Form
General Complaint Forms
General Consumer Complaint Form
General Medical Council Complaint Form
Member Grievance/Complaint Forms
Club Member Complaint Form
Confidential Member Complaint Form
Anonymous Complaint Forms
Anonymous Employee Complaint Form
Anonymous Complaint Form in PDF
Printable Complaint Forms
Printable Consumer Complaint Form
Free Printable Complaint Form
Harassment Complaint Forms
Sexual Harassment Complaint Form
Workplace Harassment Complaint Form
Formal Harassment Complaint Form
It is rather normal for a business to receive negative feedback through Complaint Forms by their customers. When a customer whines about bad service or products, this is usually because they simply felt that they did not get what they were paying for. So, keep the following tips in mind as you handle customer relationships and to soften the client's side in a well-civilized manner:
Keep Calm and Listen. When a customer presents to you a list of grievances, keep in mind that the issue at hand is not relating to you personally but to the product. If the client is complaining about the services of the clerks, then be his usherette for a while. Though doing that would be such a huge demand for your time, it does not necessarily mean that you are leaving your other work responsibilities; you are just granting customer satisfaction. Be empathetic about the issue instead of being sympathetic, and keep out their destructive words. These words that your client is ranting about are due to his anger and deep annoyance of his high expectations with your service, which means it will not define who you are in your life. Instead, just hold your fire, drop your stress, and release a smile.
Acknowledge the Customer. Most customers just really need to blow off their steam as a result of having to hold on to their patience or their frustrations for too long. Ask their basic identification details to enable you to address their names properly. Let the clients see that you are being attentive to them and respond to them with phrases like, "I fully understand" or "I see." Let the customer finish what he has to say and try not to interrupt him or react before he is finished. This will show how professional you are in dealing with complaints, and it will easily calm the customer whenever they can sense that you're not going to retaliate.
Recognize the Problem. After you've ready every bit of detail of what the customer placed in the Complaint Form, then you have to be certain that the customer knows that you understand the problem. Nothing will upset the customer more than an employee who has no idea as to what to do. Make sure that as the customer gives you a complaint, you are able to assess all the details and formulate a solution that ensures the customer's satisfaction. If you can do so, it will boost the image of the establishment you're working for, and it will also give you a better reputation. However, if there are problems that you are not situated to handle, then you can properly inform the customer that your manager will be the one to solve the issue. But only do so if you can  no longer provide aid to the customer or if the problem is not something you should take care of.
Civil Rights Complaint Forms
Civil Rights Discrimination Complaint Form
Public Civil Rights Complaint Form
Equity Assurance Complaint Forms
Fillable Equity Assurance Complaint Form
Election Complaint Forms
Election Integrity Complaint Form
Election Complaint Form in PDF
Student Complaint Forms
Formal Student Complaint Form
Student Complaint Form Sample
Complaint Record Forms
Customer Complaint Record Form
Complaint Record Form in Doc
Insurance Complaint Forms
Insurance Complaint Form in PDF
Financial Complaint Forms
Financial Aid Complaint Form
Financial Complaint Form in PDF
Barking Dog Complaint Forms
Initial Barking Dog Complaint Form
Barking Dog Complaint Form in PDF
Complaint Log Form
The Solution. After you summed up all the important information regarding your customer's issue stated in the Complaint Form, you can then provide a solution to the problem. You have to be sure that the solution is in line with company policies and at the same time you have to be certain that you're allowed to take charge of the problem. Keep in mind that the solutions you offer have to be legitimate to assure that you are to keep your word. Nothing's crazier than having to deal with a customer who has turned irate and has lost his trust in a company due to an unfulfilled promise. Always make sure that you show your customers all the respect that they deserve.
Follow-up. The process of how the issue is being handled by the company should be reported to the customer on a regular basis until he is fully satisfied. This is for granting assurance to the client that he is being taken seriously and that the administration is open to all suggestions he may give. To do this, of course, is to ask for his or her contact details and ask when would be the right hour to give him a call. An email will also be a great tool to reach out to the client. Sending him a few attachments of what the administration can do and what are the company's limitations will be helpful for him to understand the situation better if it gets out of hand.
Customer Complaint Forms can be difficult to swallow and can even be annoying; however, you should learn to embrace them with open arms if you want your product or your service to improve and your business to thrive. Be sure to properly handle the complaints of a client by giving them forms to fill out which was granted by the business admin. You can also give out customer feedback forms to clients after each transaction. Having a customer service department that can exclusively look into and analyze customer complaints is also a good idea for you and your company to benchmark ways to improve your business.