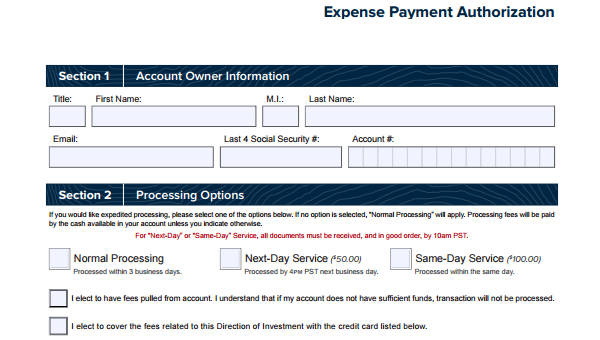 Whenever you're authorized to uses expenses, then that means you can use whatever allocated finances an establishment has in order to fund what you it is you need to do. It's when you're given a set amount of funds that's made for you to use on any kind of project or activity that benefits both you and the establishment that you're authorized to take finances from.
However, these Expense Authorizations have to be properly documented using the right kind of forms. This is to ensure that these expenses have been fully authorized and signed by the right officials. And to help guarantee that, there are authorizations for Expense Forms.
Reimbursement Expense Authorization Form
Moving Expense Request Authorization
Student Expense Authorization
Travel Expense Authorization
Employee Move Expense Authorization
Free Expense Payment Authorization
The Different Types of Expense Authorization Forms
There are many different types of forms that just about any company or organization can use in the event that they need to authorize any kind of needed expenses. Here are some examples of these types of forms.
For Travel Expense Authorizations
Travel Expense Authorization Forms are the kind of forms that are utilized by many businesses in the event that they have one of their employees go on a business trip. Business trips are quite common as they serve to promote healthy relationships with other businesses by sending representatives of a certain company to form them. There are also some expenses made by these representatives that can only be made if the company's representative authorizes it. These may include: living expenses, food expenses, and transportation.
Other expenses may vary, but the essentials are supposed to be at least covered by the businesses conducting these travels.This is also to prevent the representative from spending company funds on personal wants. Anything that has nothing to do with the business travel will not be authorized unless there has been an agreement between both parties.
Monthly Recurring Investment Expense Authorization
Travel Expense Authorization
Expense Authorization Request Form
Church Expense Authorization
Expense Authorization Form in Word Format
For Expense Reimbursement Authorization
Expense Reimbursement Authorization Forms are used by businesses that reimburse their employees for any expenses that they may have made. Sometimes a company will require an employee to do certain tasks that will require the employee to dip into their own personal savings.
When that happens, these employees may use these forms so that they can be reimbursed for the cost of the expenses. They'll have to state in these forms what expenses they made along with proof of expenses.
The Importance of Having These Expense Authorization Forms
The reason as to why there are forms such as Authorization for Employment Expenses Forms is so that businesses can know as to where their finances are going and why. If you were in charge of a business, then you would want to take into account all of your income and expenses. And you'd only want to authorize business expenses if it's beneficial to you and the business you own.
This is why these forms exist to let you know as to what expenses you can and should approve. It helps to know who's trying to request access to company finances, along with the purpose and amount of money that needs to be used. So if you plan on authorizing any kind of expense, then you can make good use of these forms.