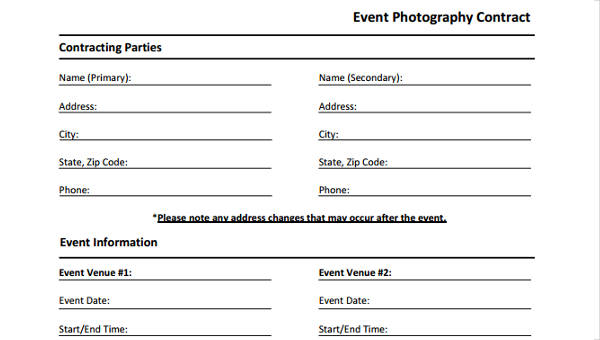 Whenever you use something like an Event Form, there are things you have to discuss with another party before it can take place. Which is why any parties that are involved with the different aspects of an event need some kind of agreement before anything happens.
Like when you use Fundraising Event Forms, you still need to make terms and conditions which you'll be using in order to guarantee the location of where you're holding the event, along with other matters such as payment. So make sure that you have all the agreements settled before starting any kind of occasion to ensure that there are no issues.
Event Rental Agreement
Event Sponsorship Agreement
Event Vendor Agreement
Event Contract Agreement
Event Planner Agreement
What is an Event Agreement Form?
An Event Agreement Form are the agreements that need to be made before any kind of event can be started up. These always have to be made to ensure that there will be no problems regarding certain issues. Like if you're going to use a Event Request Forms, you're going to have to comply with some agreements such as the method of payment and what you can do and not do while holding your event. So long as all agreements are met and kept, then there should be no problems.
How to Create an Event Agreement Form?
If you're going to create these forms, then make sure you take note of the following information to include:
Name of the event
Name of the people organizing the event along with their personal information like their contact details and address.
Location of the event
Date of the event
Once that's taken care of, then place in details of the agreements here. If you're going to create forms such as Vendor Event Forms, which will allow any person to sell his or her wares during an event, then make sure to take in the following information.
Event Photography Agreement
Event Room Rental Agreement
Event Management Agreement
Special Event Agreement
Guidelines for Event Agreement Forms
Here's some things you can follow when using any Event Agreement Forms:
Make sure to put in your personal details. If you're the one in charge, then always make sure to hand out your complete name, along with your contact details for when certain people need to get a hold of you at a moment's notice.
Specify the name of your event and the purpose. The people that can authorize your event have to know what it's all about. Only then can any agreement can be formed.
Make sure that the agreements being made are favorable to both parties. So everything from how the venue is used, the division of payment, the rights of usage on certain properties have to be properly discussed in these forms.
These guidelines are also very useful for when you need to use Event Registration Forms during those moments you're going to register an event for a certain venue. It's always tough when someone wishes to hold an occasion that could contain a lot of people. Which is why agreements have to be made so both parties understand what they can and cannot do. If you need to know more about Events, then there are other Sample Event Forms here for you to view.