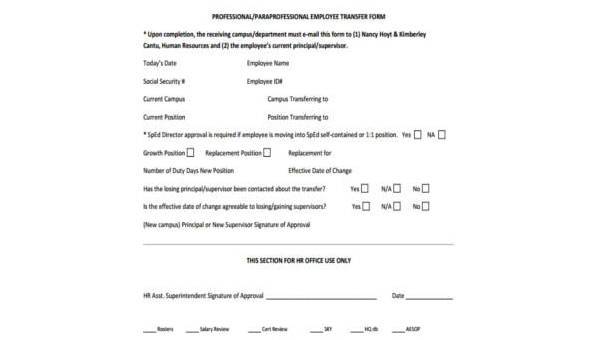 In the event when deciding to transfer a possession or property – say, a house or an apartment – to someone else, Transfer Forms are the forms you will need. These are legal documents the transferee and I would need to have and completely fill out as soon as possible. Besides our names and contact information, the particulars about the house or the apartment will be needed as well.
We are pleased to inform you that our website has all these kinds of forms. We manage to supply you of various forms, including the Transfer Forms that never run out and you can study, download, and even customize them now – all free of charge!
Internal Employee Transfer Form
Internal Employee Transfer Request Form
Fillable Employee Transfer Form
Professional Employee Transfer Form in PDF
Employee Transfer Recommendation Form
Employee Salary Transfer Form
Student Transfer Forms, on a lighter note, are forms mainly used by schools when a particular student decides on enrolling at a different educational institution. These papers are some of the requirements needed by the receiving school.
Our website also provides you with examples of these forms for purposes of transferring. If you happen to be a student who decides on transferring to another educational institution, this is your chance. We have updated forms that are non-stop and specifically crafted professionally by a group of specialists, so it is next to impossible for us to run empty. We guarantee you that the forms we have here on this website are simple and efficient. We have forms for practically any legal or commercial scheme you can consider. You can browse further with this website and the forms herein, and if you decide on having a hard copy, you can do that too. We keep a variety of legal forms in our library that you can download, and we have been commended for being user-friendly to boot. When this website was initially conceived, half of the plan took into consideration the people with no solid technological background and involved figuring out how they can still use this webpage smoothly – and obviously, we followed through with that plan.
Employee Department Transfer Form
Employee Transfer Form Example
Employee Transfer Recommendation Form
Employee Transfer Application Form
Employee Transfer Form in Word Format
When a transfer or sells a parcel of land, a title should of course be attached to the purchase. Together with the title, and according to law, or just basically to avoid any misunderstanding, both the transferor and the transferee will need a written legal document – and this is when Title Transfer Forms are used. All the relevant information should be jotted down on Title Transfer Forms.
Our website always offers you instruction about the basics of title transfers. Just key in the name of the specific forms you want on the search bar, then within a matter of seconds, all the forms should appear in front of your computer screen.
This very website assures you that the library of forms that it keeps is so huge that we are not going to run out of them, as written above. Our website is very user-friendly that even a child will not get lost in it. Assuming that you are someone who plans on selling a property, then feel free to utilize this website to its fullest potential. For penny-pinchers out there, do not worry. We don't request you for a charge when downloading these forms, so yes, feel free to download them for your personal and future use.