What Is a Rent Receipt?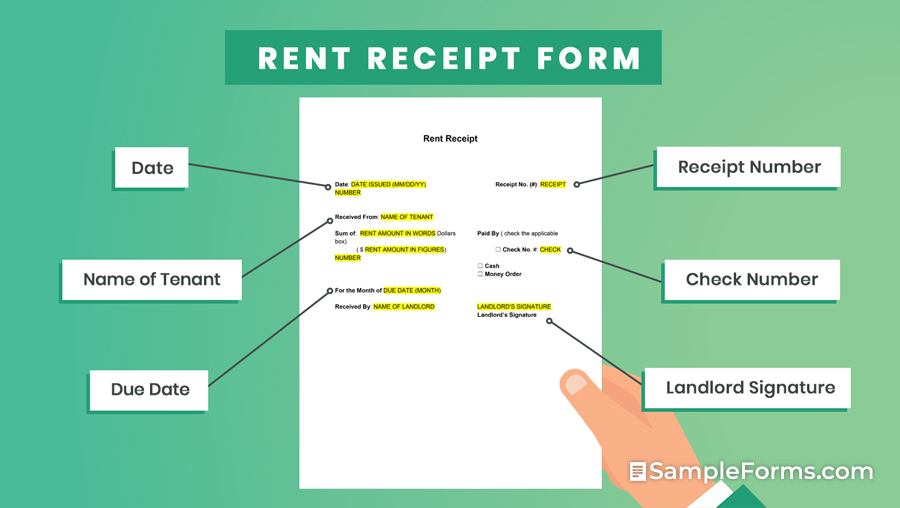 Rent receipts are papers that record the details of rent payment. It records the date when the payment was made, as well as other information such as who made the payment and how much is paid. It also records how the payment was made, as well. But more than that, rent receipts are also proof of a transaction's transparency, which further builds trust and credibility between you and your tenants.
How to Make a Rent Receipt
Rent is usually paid monthly or periodically, and it also helps if you have a reliable tool to record and track it. Rent receipts document and record dates, amounts, and other information about your tenant's payment record. And these will help you make your rental business transparent and trustworthy. Listed below are the steps on how to make a rent receipt.
1. Indicate When the Receipt is Issued and Paid
Indicating when the receipt is issued also means indicating when the payment was made. And, doing so also helps you keep track of your tenant's rent. So in making a rent receipt, always remember to indicate the dates when the rent receipt is issued, when the payment was made, and what month the payment is made for. Aside from that, be sure to indicate whether the payment is made in full or partially made.
2. Add a Receipt Number
Rent receipts are made mainly for recording and tracking a tenant's rent. And in making a rent receipt, always remember to include a receipt number. These numbers do a lot of things for you. And aside from tracking when a certain payment was made, it also allows you to easily identify which belongs to a certain payment period as well as sort them easily from others.
4. Include the Parties Involved
Another component you should include in your rent receipt is the information about the parties involved. These are namely the landlord and the tenant. And, including such information enables the landlord and tenant to know who made the payment as well as who received it. Aside from that, it also helps you sort a particular receipt from others as well.
5. Acknowledge the Payment
After completing all the necessary components of your rent receipt, the last thing to do is to sign it. Signing the rent receipt means that you already acknowledged the payment, as well as signifying its receipt as well. And after signing the rent receipt, make sure to provide you and your tenant copies of the rent receipt for the purpose of maintaining transparency.
Frequently Asked Questions
Is it important to keep a copy of our rent receipts?
Yes, it is. Although rent receipts can give your business a professional look, they are also essential in recording and tracking a tenant's rent and payment. These documents can also serve as proof to resolve disputes between you and your tenants. So every time a tenant pays its rent, always make sure to keep a copy of the rent receipt issued.
How often do we need to make rent receipts?
Tenants pay their rent every month, or on a period depending on the rental/lease agreement. Now making rent receipts that often is not practical, and it is wise to make them all at once. So when making a rent receipt, it's better to get a rent receipt template from which you can make several copies from it. You can easily do so by using rent receipt templates offered by this site.
Why do we need to use rent receipts?
As mentioned above, rent receipts are payment and transaction records that help you track your tenant's rent and payment. Aside from that, they also help you build trust and confidence between you and your tenants by providing them a transparent breakdown of their payment as well. Rent receipts can also boost your business's credibility and good reputation by giving it a professional look.
Does a rent receipt need to be received by the landlord?
Rent receipts are commonly received and signed by landlords. However, any of the landlord's representatives can also receive them as well. If there are times where you are temporarily unable to do so, you can assign a representative to receive rent receipts. But, always see to it that it is you, the landlord, who signs them.
Can we record any partial payments in a rent receipt?
Yes, you can. Any payments, whether partial or full, related to a tenant's rent can be recorded in a rent receipt. Rent receipt documents and acknowledges any payment made by a tenant regarding its rent. And should a tenant makes a partial payment of its rent, make sure to record the amount paid and its remaining balance. Also, be sure to tell the tenant that the balance will be carried on top of the future payments.
A successful rental business has to be as professional to maintain its credibility. And, these can be done by being transparent and trustworthy towards its tenants. For this reason, it is important that these should also reflect in every document that we release. One such document is a rent receipt. And by giving a detailed breakdown of a tenant's payment, you can further establish or maintain a healthy relationship with them.