What Is an RV Lease Agreement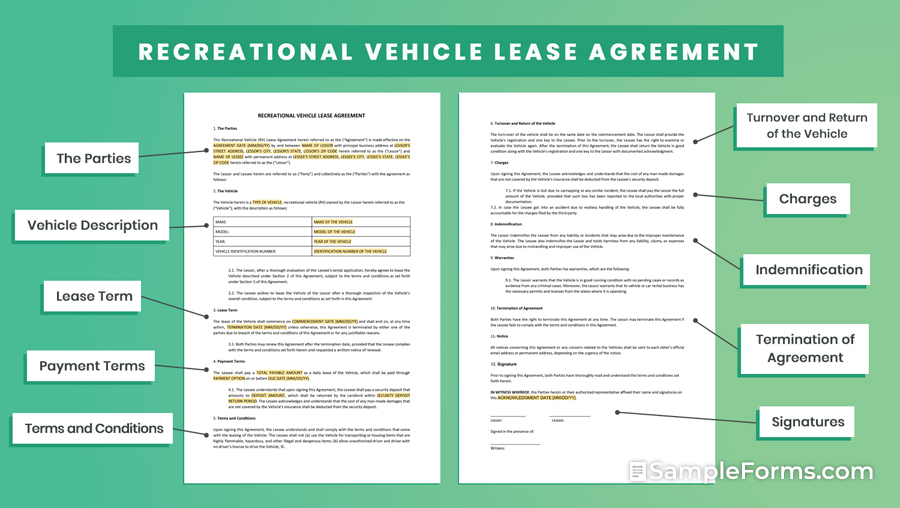 An RV lease agreement is a document that outlines the terms and conditions of leasing an RV. Its terms and conditions include the rights, obligations, and responsibilities of the parties. It also documents the details of its fees, charges, and compensation for the vehicle or car rental. This document aims to provide the parties with a clear understanding of the scope and limitations of the RV's use, as well as minimizing the risks of the vehicle's lease.
How to Make an RV Lease Agreement
Leasing RVs means that your assets will be traveling outside city centers and state boundaries. This makes it riskier than other types of property leasing and generic rentals. So in making an RV lease/ rental agreement, it is essential for it to clearly outline the parties of the lease, its terms, and conditions to provide a layer of security for your RV. And listed below are the steps on how to make an RV lease/rental agreement.
1. Introduce the Parties of the Lease
Introducing the parties of the standard lease defines people bound by the agreement's terms and conditions. It also allows reducing the risk of leasing a particular RV, as well. Introducing the parties should be done by writing the names and addresses of the lessor and lessee, respectively. Aside from these, you should also indicate the date of the document's creation as well.
2. Make a Full Description of the RV
Tracking your RV's whereabouts during the lease is very important, especially if the lessor intends to cross state lines. These can be done by making a full description of the motor vehicle in your RV lease/rental agreement. An RVs full description includes its make, model, year, and VIN. And these will make it easier for authorities to find the RV if it is stolen or used in anything illegal.
3. Specify the Payment Terms and Details
Leasing an RV entails a lot of risks, so it needs to be justly compensated. In making an RV lease/rental agreement, make sure to specify the payment terms and details for the RV's rent, security deposit, and other charges. You should also include the details for penalties, such as late charges, as well.
4.Outline the Lease Terms and Conditions
Aside from the items mentioned above, it is also important to outline the terms and conditions for the RV's lease when writing an agreement for it. These are the parties' rights, responsibilities, and obligations towards the leased recreational vehicle. It also outlines the guidelines for its care and maintenance. Aside from that, it should also define when the lease starts and expires. And finally, you should end the document with the conditions for its termination, extension, and renewal.
5. Sign and Finalize the Lease
After completely defining the terms and conditions of the as-is vehicle lease, the last and final step is to finalize the RV's lease. This is done by both parties signing the RV lease/rental agreement. Signing the deal signifies both parties' acceptance of its terms and conditions. And to add more teeth to it, you can opt to have the agreement signed by witnesses or by notarizing it.
Frequently Asked Questions
Is it necessary to check the lessee's background before making an RV lease/rental agreement?
Yes, it is. Checking the lessee's background before leasing your RV, or any property lessens any risk from happening. This is because leasing an RV involves driving the leased vehicle outside city limits and state lines. You should have the lessee checked first right after they submit their rental application.
Do I need to notarize an RV lease/rental agreement?
Notarizing an RV lease/rental agreement is not necessary. However, you might need to if your state requires it. Aside from that, you can also opt to notarize it you and lessee see the need to do so. But if you don't see the need to notarize the agreement, you can always have it signed by a couple of witnesses.
Why do we need to make a detailed description of the RV in an RV lease/rental agreement?
A detailed description fo the RV or camper allows for the ease of tracking the vehicle during the lease. It also makes it easy for the authorities to find it if in case the RV is stolen. Other than that, a detailed description allows you to know which particular RV was leased if you own several of them for the same purpose.
Is a daily lease allowed in an RV lease/rental agreement?
Yes, Daily leases are allowed in an RV lease agreement just as a monthly lease is. The lease terms that you impose is for covering the risks involved in leasing your RV. Daily leases also offer an affordable leasing option for people who wish to lease one of your RVs for their weekend trips.
Can I charge fines for violations in an RV lease/rental agreement?
Yes, you can. An RV lease agreement aims to protect your assets from any risk in leasing your RV. So it is also necessary to charge fines if the lessor violates any of its terms and conditions. Make sure to explain and elaborate these when adding fines in an RV rental/lease agreement.
Leasing RVs allows you to share the experience of traveling in an RV, other than earning an extra buck. But, such business includes many risks, and negligent use and stolen RVs are among them. RVs are not cheap, and leasing those vehicles with an RV lease/rental agreement helps you protect your investment.