What Is an RV Bill of Sale?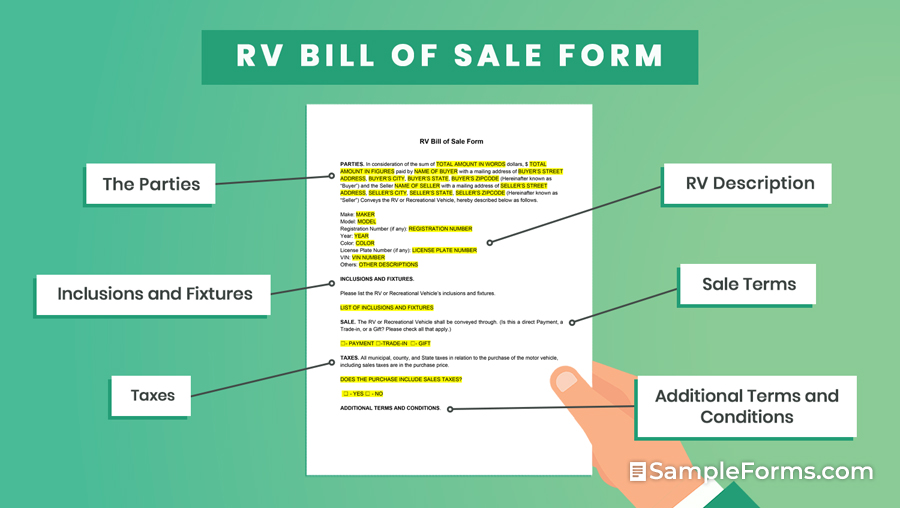 RVs or recreational vehicles are very popular with Americans as it makes traveling 20-60 % cheaper than conventional methods, according to Condorferries. In fact, 11 % of American households own an RV. But if you're planning to sell an old RV for some reason, you'll need to properly document it with an RV bill of sale.
An RV bill of sale is an important document in the sale and purchase of a recreational vehicle. It shows the details and specifics of the vehicle, as well as those of its seller and buyer. An RV bill of sale also shows the legal transfer of ownership of a recreational vehicle and is an important requirement for registering such a vehicle under its new owner.
How to Create an RV Bill of Sale
RVs or recreational vehicles are far removed from the horsedrawn covered wagons that it descended from. They combine mobility with the luxury of comfort, thus making weekend getaways more enjoyable on a budget. To sell an RV legally, listed below are the steps on how to create an RV Bill of Sale.
1. Specify The Parties of the Sale
The parties of an RV's sale is the most important details in an RV bill of sale. It helps your buyer's state DMV to know who sold the vehicle as well as its new owner. In this part of the RV's bill of sale, all you need to do is indicate the name of both the buyer and the seller and their mailing addresses. For added safety, always make sure to ask the buyer for their IDs beforehand.
2. Indicate The Type of Transaction
There are other ways of selling an RV aside from directly paying for it. It can be also be sold by trading it with another item of value or as a gift to a buddy of yours. Indicating the type of transaction is also important in registering the RV to its new owner. So in writing a bill of sale for your RV, always make sure to indicate whether its sold directly, traded, or given as a gift.
3. Make a Detailed Description of the RV
A detailed description of the RV not only makes a transaction fair and transparent. It also lets your buyer's state DMV determine whether the description in the bill of sale matches the actual RV itself. So make sure to provide a detailed description, such as the RV's specifications, identifying marks, as well as its value, when writing an RV bill of sale.
4. List Additional Terms if Necessary
Sometimes, selling an RV is not as simple as selling other things. It may require some details to make the transaction more favorable to both the buyer and seller. In this case, when writing an RV bill of sale, listing additional terms may be necessary. You can either include terms about requiring a deposit for the reservation of the RV or terms about inspecting the RV before its purchase.
5. Seal the Deal with Your Signatures
To complete the RV's sale and purchase, it is important that both parties sign on its bill of sale. Signing the RV's bill of sale signifies that both accept and agree with the terms of the sale. Other than that, additional signatures will be required by the state as well. These would be the signatures of the witnesses and that of a public notary.
Frequently Asked Questions
Is an RV bill of sale necessary for its registration?
An RV bill of sale serves as proof that a recreational vehicle is sold and acquired legally. Without it, it will be very difficult for a new owner to register a private vehicle under their name.
Does an RV need to be inspected before writing an RV bill of sale?
Although not necessarily needed, it is advisable to let the seller inspect the RV before finalizing the transaction with a bill of sale. This will let the buyer's state DMV know that the transaction is done fairly and transparently.
Does an RV bill of sale need an odometer disclosure?
An odometer disclosure is a statement that is commonly required in vehicle sales. However, the same may only apply to RVs depending on the state where it will be registered to a new owner.
Can you sell an RV without a bill of sale?
Selling an RV without a bill of sale might get you in a lot of trouble, in many ways. Firstly, it will be difficult to prove ownership of the RV. Secondly, it will be difficult for the new owner to register the vehicle under their name. And lastly, it will get you into legal trouble as there is no way you can prove that the RV was legally acquired.
Can we trace an RV's history with an RV bill of sale?
An RV's bill of sale can help trace the vehicle's history by letting your state's DMV examine the information written inside it. This usually happens when the new owner registers the RV under their name. The buyer's state DMV will usually compare the vehicle's VIN with their records, which in turn determines whether the RV was stolen or was used in unlawful activities.
Americans value their holidays, and going out of town is one way of celebrating it. Some of them might book a hotel in another state, while most would rather choose to travel interstate in an RV. Traveling in an RV is a priceless experience. But one must have the proper papers to before one can enjoy such an experience, like that of an RV bill of sale.