What Is a Puppy Bill of Sale?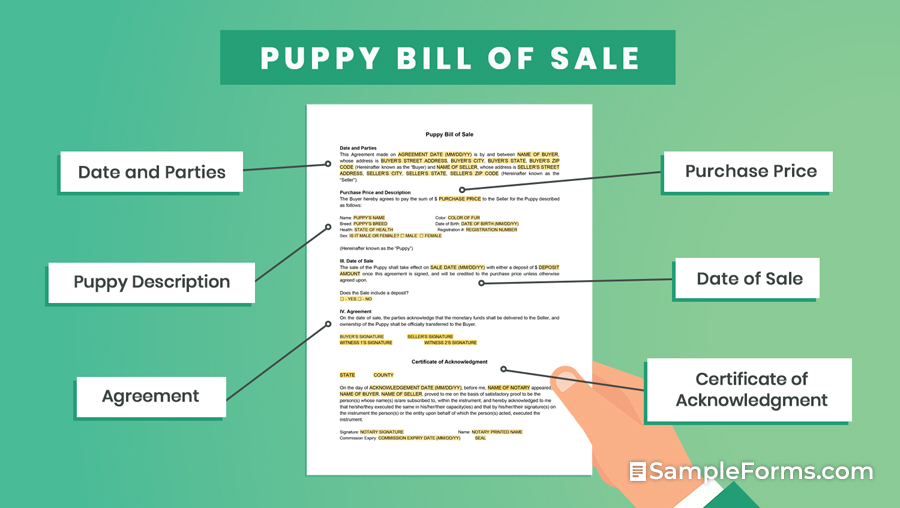 A puppy bill of sale is a legal document that records the puppy sold in exchange for the payment issued by the buyer. It acts as a receipt of the transaction between the buyer and the seller. It contains the names and the mailing addresses of both parties, description of the puppy, i.e., name, breed, date of birth, sex, color, registration no., and state of health, date of sale, payment, signatures, and in some cases, a certificate of acknowledgment.
How Do I Sell a Puppy Through a Puppy Bill of Sale?
Studies have shown that people who own dogs live longer and have fewer heart attacks compared to people who don't. Aside from spiritual growth, they offer companionship and amusement; that's why 44% of American households have a dog—that's equivalent to 78 million dogs (The Puppy Place). The home of the highest dog population in the United States—followed by Brazil and China.
Writing your puppy bill of sale is easy as long as you have all the necessary information that you need. Below, we have compiled you helpful tips that will help you so.
1. Regulate the Pricing
You cannot immediately regulate the price of the puppy according to your wishes. You have to conduct a market analysis and compare the pricing of the puppies that are up for sale. You can find these on a classified ads website. Some things to consider when putting a price tag on your canine are the breed, coat color, age, health status, size, training, and gender.
2. Advertise the Puppy
Once you have regulated the price, you are now ready to advertise the puppy on your selected platform. You should consider the most popular platforms you can advertise your puppy on. One of them is Facebook—it keeps your family and friends in one place, and word of mouth spreads like wildfire. But, if you want a platform or a website that heavily focuses on pets, you may do so. A website, whether popular or not, does not give you a guarantee of a safe and secure transaction.
3. Download a Template
Assuming you have found yourself a buyer, download a puppy bill of sale form. You will be asked to fill out fields with your pertinent information to produce a finished product of the form. Downloading a well-made template is more convenient than having to make the bill of sale from scratch. Choose wisely.
4. Fill Out the Puppy Bill of Sale Form
A puppy bill of sale form primarily consists of the names and mailing addresses of both parties, the puppy's description, the pricing, health guarantees (if any), and signatures and dates of both parties and witnesses. Double-check the whole document after filling it out.
5. Have it Notarized by the Public Notary
The notary public ensures the proper execution of the agreement and ensures that both parties have provided accurate identification. They are also responsible for confirming the parties' awareness of the contents of the legal document and their willingness to sign it. Therefore, the notary public reinforces the effectiveness of the bill of sale. However, you need to check if your state requires you to have your bill of sale notarized.
Frequently Asked Questions
What should be in a puppy bill of sale?
The puppy bill of sale should have the puppy's breed, date of birth, coat, state of health, registered name and register number, color, and gender. Aside from the puppy's description, it should have the names and mailing addresses of both parties, payment terms, signatures, and a certificate of acknowledgment (in some cases only).
Do I need to notarize my puppy bill of sale?
It depends. Much like other bills of sale, the puppy bill of sale needs to be notarized if your state requires you to do so.
Will it affect the mother if the puppy is taken away from her?
While it looks cruel, it won't affect the mother if you take away the puppy from her. They don't have the same bond as humans do, and the puppy might cry for several days until it settles eventually.
What do you mean by a health guarantee on a puppy?
According to Paw Print Genetics, a health guarantee is provided by most sellers or breeders as an assurance that the puppy is healthy and that it is free from infectious diseases. The buyer is required to take the puppy to the veterinarian within 48-72 hours for a health check. This will serve as protection for both the buyer and the seller.
Does a puppy bill of sale prove ownership of the puppy?
The answer is no. A puppy bill of sale is a receipt of the transaction, and it does not prove ownership of the canine. Several ways of proving ownership over a puppy are registration, veterinary records, and license and microchip records.
Looking after puppies require a natural inclination towards them and dedication. It's what drives you to provide comfort and safety while their mother tends to them. While it may be too costly for you or your house just cannot afford the addition, you won't have a choice but to put them up to a sale. Who knows? You might be making a difference in another family's life. Make a puppy bill of sale a priority right after the transaction.