What Is a Motor Vehicle Bill of Sale?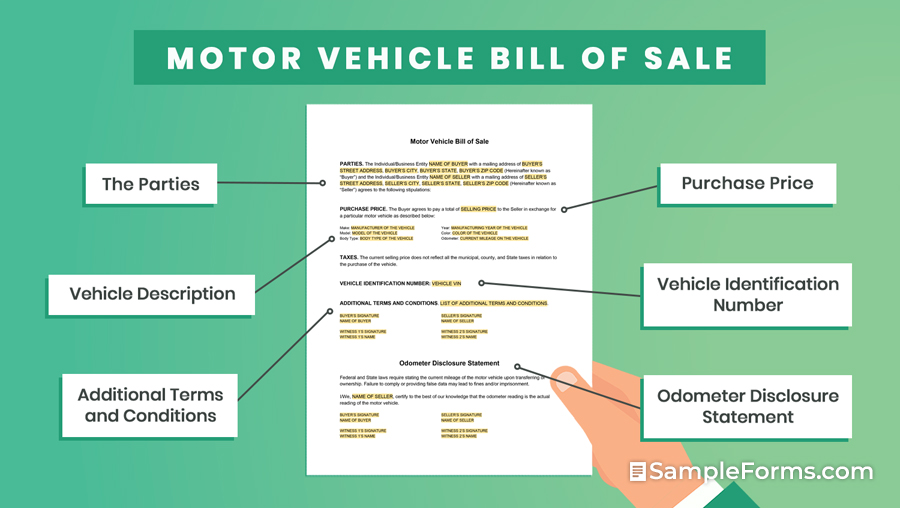 The United States is one of the largest automotive markets all over the world, according to an article by Carsurance. Since there are 17.5 million new vehicles sold annually, the number of vehicle ownership is likely to increase by 49 percent in the years to come. For sale transactions of vehicles, there's no better alternative to official documentation such as a bill of sale.
A motor vehicle bill of sale is a document that attests to the legality of the sale or transfer of a vehicle to another party. But more than that, it also certifies that the vehicle complies with the state and federal regulations as well. Furthermore, these documents are required to own a vehicle under your name legally.
How to Complete a Motor Vehicle Bill Of Sale?
Motor vehicle bills of sale are more than just a record or proof of legal transfer or sale of a vehicle. It can also help you in case the new owner gets into legal trouble with the car. Whether you're planning to sell your truck to a friend or perhaps trade it for something else, here's how you can create a motor vehicle bill of sale with the steps listed below.
1. Meet With the Buyer
Motor vehicle bills of sale are necessarily like sales and purchase agreements. And as with every transaction, you must discuss its terms with the buyer, such as its price and delivery. This is also the perfect time for your buyer to inspect the vehicle in person and finalize the terms of the sale further.
2. Draft The Bill of Sale
Like every bill of sale, motor vehicle bills of sale outlines the terms of the sale of a vehicle. Thus, it's crucial to specify each of the party's responsibilities in the transaction, apart from form the general information such as the vehicle's condition, specifications, and price. Moreover, it's also important to specify if its an "as-is" sale or not. Always keep these in mind when drafting your bill of sale.
3. Don't Forget Your Odometer Disclosures
Odometer disclosures are one of the elements required in motor vehicle bills of sale in most states. This kind of disclosure helps identify if the vehicle is considered as used or if it's good as brand new. It also gives the buyer assurance that the car is safe and reliable to use. Odometer disclosures are either written below or attached to the bill of sale, so don't forget to have them when creating your motor vehicle bill of sale.
4. Notarize, If Necessary
Apart from the signatures of the parties involved, notarization is perhaps the most important part of creating a motor vehicle bill of sale. Although this may depend on the state on which the transaction happens, most of them usually require it to make the sale or transfer legal. This signifies the acceptance of the terms inside the bill of sale by each party, as well as certifying it as true and correct.
Frequently Asked Questions
Why do some states require a motor vehicle bill of sale for registration?
While some states don't require a bill of sale register and legally own a vehicle, however, some states do for a good reason. Firstly, it serves as proof that the vehicle was legally acquired. Secondly, it legally indicates the vehicle's identifying marks, such as its VIN. More importantly, it helps authorities know if the vehicle is involved in anything illegal or if it's stolen.
Does a motor vehicle bill of sale help track the vehicle's history?
Yes, it surely does. Motor vehicle bills of sale, as well as others like it, contains information about the vehicle's previous owners. Other than that, as mentioned previously, it also includes the vehicle's identifying information—VIN, make, color, and body type. And with all this information, authorities could determine if the car was illegally sold to the buyer and help the buyer know of any irregularities in the vehicle itself.
What kind of vehicles are included in a motor vehicle bill of sale?
Motor vehicle bills of sale usually extend to cars, trucks, and camper van bills of sale. However, in some states, it may also include boats, motorcycles, as well as farm equipment such as tractors. As mentioned, these documents help authorities register and grant the title of such vehicles to its lawful owners. More importantly, it also helps protect the buyers from the unlawful sale of such vehicles as well.
Is a motor vehicle bill of sale and deed of sale the same?
A motor vehicle bill of sale is different from a deed of sale. A deed of sale outlines the things or attachments included or legally included in the purchase of a vehicle. Although bills of sale usually highlight such information, however, it's not in the same degree that a deed does. More importantly, deeds are not documents of the transaction itself, unlike that of a bill of sale.
Does a motor vehicle bill of sale serve as a title of ownership?
Although a motor vehicle bill of sale may serve as proof of ownership or legal transfer of such, it generally doesn't prove ownership over a vehicle. This means that motor vehicle bills of sale don't serve as a title of ownership. A motor vehicle bill of sale, however, will help you get or transfer a title of the property depending on the state that you're registering the vehicle.
Traditionally, selling or conveying something of value is usually done and concluded verbally. However, these kinds of transactions are generally wrought with fraud, putting the buyer on the losing end. Motor vehicle bills of sales, and among others, help the transacting parties protect themselves from fraudulent transactions and dubious claims. They are enabling each of them to establish their right to legally dispose of or own a movable property, such as a vehicle.