What Is a Car Bill of Sale?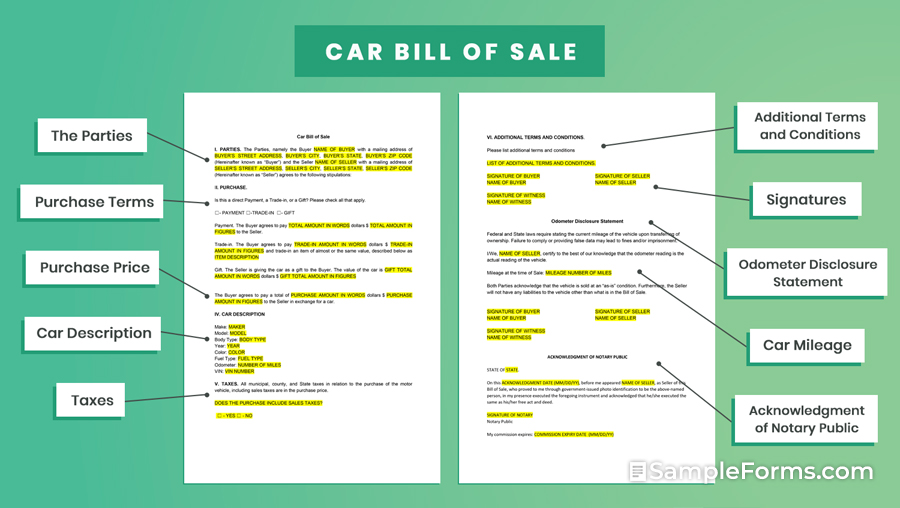 Owning a car doesn't start until 18 years old, and what's as important as getting a driver's license is knowing what a car bill of sale is. A car bill of sale is an essential document that records the private sale of a car, and a valuable form for the buyer and the seller. The buyer can use this document when transferring or applying a title of ownership to the DMV. On the other hand, the seller can use it as proof that the car is no longer in his possession when the car is involved in legal troubles.
How Do You Complete a Car Bill of Sale?
According to Bankrate, 65 % of Americans are more inclined to buy used cars than new ones. Used vehicles are as good as new ones, and a bang for the buck, if kept in mint condition. And, selling an extra car is also an excellent way to clear up some space in the garage. If you want to sell one lying in disuse, here are the steps on how to complete a car bill of sale.
1. Get to Know Your Buyer First
Selling your car to a total stranger is relatively common in private car sales. So before meeting the buyer and subsequently sealing the deal, it's healthy for you to ask for their identification. Knowing your buyer allows you to decide whether it's a good idea to sell the car to them. It will also help you avoid any hassles should the buyer run into legal trouble with the car.
2. Include Specifications and Details
Details and specifications help your potential buyers to narrow down their choices straight to your car. Buyers are varied differently with diverse choices in cars—color, body type, and model. Apart from that, it also helps the car's new owner apply and transfer a title of ownership in their state's DMV.
3. Get the VINs and Odometer Disclosures
Aside from the car's details and specifications, the car's VIN and odometer disclosure statement is also an essential element in a car bill of sale. These things also help the car's new owner apply and transfer a title of ownership in their state's DMV. More than that, VINs and odometer are also mandatory in every car bill of sale by federal law.
4. Add More Provisions If Needed
While car bills of sale typically have the same provisions with other vehicle bills of sale, adding additional conditions may be needed, especially if you're familiar with the buyer. You may want other payment options, sale and purchase terms, and others. And also, it's important to discuss any additional provisions with the buyer should you need to add them in your bill of sale.
5. Have a Notarial Seal Stamped on It
Most states require a notarial seal to be stamped on car bills of sale as it serves to prove that the car was sold legally. And to get a notarial seal, all you need to do is sign the car bill of sale in front of a public notary and a witness.
Frequently Asked Questions
Where can we find a car's VIN for a car bill of sale?
A car's VIN or Vehicle Identification number is essential in transferring or registering a vehicle. You can find these numbers in various parts of the car, such as its dashboard, the driver's side door jamb, and even on its insurance and registration papers.
What does a car bill of sale odometer disclosures typically include?
Odometer disclosure statements show a car's total mileage, which also tells how long it's been used. They typically include the car's odometer reading, the seller's guarantee that the reading's correctness, as well as its signature. Odometer disclosures are required by federal law in every car bill of sale to make the sale more transparent.
Do we still need a bill of sale for a traded or gifted car?
A bill of sale is still needed even if the car is traded or given. A car's bill of sale serves as proof that the car is sold legally, and contains all the information needed in applying for a title transfer.
Which states do not require a notarized car bill of sale?
Although a bill of sale is required for the car's legal transfer of ownership, not all of them need notarization. Most states don't require a notarized car bill of sale, but only six of them do. These are the states of Louisiana, Maryland, Nebraska, New Hampshire, West Virginia, and Montana
Who can have a copy of a car bill of sale?
Commonly, both the seller and the buyer must have a copy of the car's bill of sale. But if the document is notarized, it is a must that the public notary must have one as the form will be stored in the public records.
Whether it's on the race track or for late-night drives, no amount of words can express our deeply embedded affection towards cars. And at the same time, we also valued cars in the same way we do with our properties as well. Whether you're out to get your first ride or perhaps hand your old one to your buddy, a transaction will never be complete without a car bill of sale.