What Is a Bicycle Bill of Sale Form?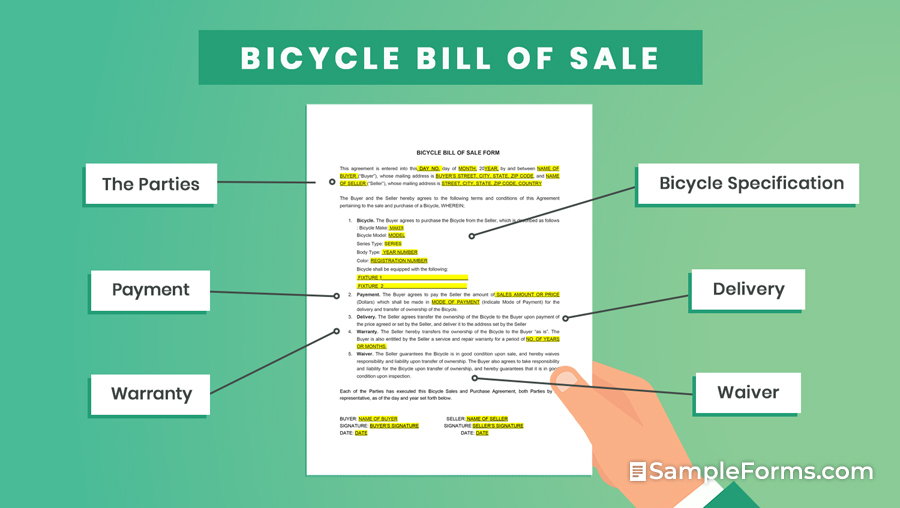 Like vehicle bills of sale, a Bicycle Bill of sale is a document signifying the legal transfer of ownership of bikes. Additionally, this type of bill of sale also provides a sales and purchase record of a bike, including the paid price, bike specifications—model, color, and type—as well as necessary information about the buyer and the seller. 
How to Create a Bill of Sale to Legally Sell a Bike?
Here, we've listed the tips on how to sell Bicycles with a professionally created Bill of Sale.
1. Indicate the Price
The value is always in the price, as they say. So it's essential to price your bike accordingly and indicate the total price on the form. You can have both amounts in words or figures on the paperwork. If unsure, you can go ask around about it in forums and people in the cycling community. Or, you could use sites like Bicycle Bluebook to help you.
2. Write Down the Basic Information of Both Parties
Personal information, such as names, addresses, and contact details, is important when selling a bike. These will help you in preparing a general bill of sale for the transaction, which allows the buyer to register the bike under his name in return. So in doing so, make sure to ask for ID cards and write personal information on the document.
3. Identify Applicable State or Federal Laws
For faster transactions, some bill of sale forms may require accompanying paperwork to comply with State laws with regards to the sale. Prepare the necessary papers, such as its registration and of course, the bill of sale itself. For example, registration laws would protect bike owners from crime and fraud relating to the use and sale of these vehicles.
4. Add an Item Description
A bicycle may not be like other vehicles, but that doesn't mean it doesn't have enough value. To convince the buyer to sign the form, adding specific descriptions such as color, make, model, and condition of the bike would be necessary.
5. Include a Signature Line
Selling a bike legally requires a Bicycle Bill of Sale signed, sealed, delivered, or so they say. As a seller, you would want the document to record the legal sale and transfer of the bike, which will help its registration to its new owner. A professionally made fillable bill of sale for a bicycle would lose its weight without signatures from the buyer and seller. Most states would also include a witness for added proof.
Double-check every part of the document and don't forget to download our Bill of Sale forms. When in doubt, you can always make use of editable forms available on this website.
Frequently Asked Questions
Are service warranties included in a Bicycle Bill of Sale?
In most transactions, service warranties are usually not included in a bicycle bill of sale. These are usually written and elaborated in a separate contract. You can, however, include and detail service warranties in your bicycle bill of sale if you find it convenient for your buyer.
What is an "As is" sale in a Bicycle Bill of Sale?
An "as-is" sale in a bicycle bill of sale means that a bicycle is sold and bought in the condition it presently exists. It could either mean that the bike is sold and bought preloved or brand new. In addition, the seller may further state that the bike is free from any liens, issues, and defects.
Is it important to prepare a Bicycle Bill of Sale?
Bicycles are subject to different laws regarding their sale and use. Documents such as a bicycle bill of sale not only provides a record of sale but also a legal proof of ownership as well. What a bicycle bill of sale does, is it makes it easy for owners to register their bikes under them. Also, it makes it easy for authorities to return stolen or lost bikes to their owners.
Do sellers need to keep a copy of a bicycle bill of sale?
Yes. Sellers need to keep a copy of a bicycle bill of sale from every transaction. Bicycle bills of sale details each condition that both parties agreed upon. By keeping a copy of the bill of sale, the seller can protect himself from any fraudulent claims by reviewing the document itself.
Do Bicycle Bills of Sale need to be notarized?
Depending on the state that you made your transaction, a bicycle bill of sale may not necessarily need notarization. Notarizing is required, however, in the states of Louisiana, Nebraska, Maryland, New Hampshire, West Virginia, and Montana, to name a few. You can always choose to notarize your bicycle bill of sale if ever you feel the need for extra protection.
Bicycles are definitely a cost-saving, healthy, and eco-friendly way for your daily commute. But as with other properties, bicycles are also subject to crime or used in doing unlawful acts as well. Bicycle bills help you legally own a bike, as well as sell them, by attesting to its honest ownership history.