What Is a Basic Bill of Sale?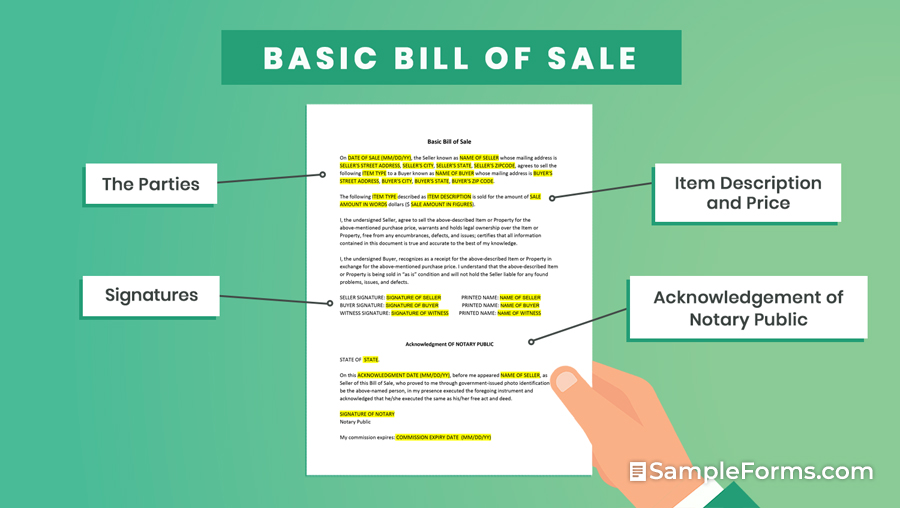 A basic bill of sale is a document used in the private sale of goods, more particularly those that needed to registered—personal property. Vehicles, firearms, and live animals, such as horses, are some of the goods that require a sample bill of sale. This document is like your grocery receipt, which serves as a record of a transaction. But more than that, this document also proves that the goods were acquired or sold legally.
Moreover, a basic bill of sale can also be notarized depending on the state where you're conducting the sale. Thus, it can be used as evidence in court should disputes escalate in such. Or, as proof that you no longer own the goods should the buyer run into legal troubles with the goods.
How to Complete a Basic Bill of Sale?
Perhaps you're planning to sell an old car that's been lying around for some time. Or maybe, a newborn calf or puppy? You may have put the word out, and prepared your merchandise for sale. And for you to make your transaction run as smoothly, here's how you can make a basic bill of sale for your goods with these simple steps.
1. Start with the Parties First
The most crucial element of a basic bill of sale, as well as others like it, is the information about who bought the goods and who sold them. What's more, is that it also helps in applying a title of ownership over the goods as well. A basic bill of sale only asks for the names of both parties as well as their addresses. So, make sure to double-check them first.
2. Describe The Item Accurately
Describing the item for sale is more than just writing its specifics. It's also a way to establish trust between you and the buyer. In making a bill of sale, always describe your merchandise as accurately as you can. You can do so, by the things that your buyer needs to know about them, such as a vehicle's mileage, a pony's breed, or the type of furniture that you're selling.
3. Set a Reasonable Price
Pricing can make or break a sale, and it says a lot about your credibility as a seller as well. For you to set a reasonable price for your goods, combing through classified ads and snooping around online listings would give you an idea of how much it costs. Aside from that, online forums and hobbyist pages in social media will help know its market value as well.
4. Sign and Seal the Deal
Signing the printable bill of sale means you and the buyer agree with the terms and conditions, thus sealing the deal into a conclusion. To the basic bill of sale, sign all you need to do is affix your signature on the block at the bottom of the document. Also, your State may require a witness to sign the document and notarization. So make sure you have them covered, as well.
Frequently Asked Questions
1. Do we need to have a bill of sale for private sales?
Private sales, although very convenient, can also be an unsecured means of buying or selling goods. The document also protects your rights as a buyer or a seller by having a record of the transaction. And also, some states require a bill of sale for goods to own or acquire them legally.
2. Is it essential to notarize a basic bill of sale?
Although not necessarily important, notarizing a basic bill of sale could be advantageous for you. Notarizing transforms your bill of sale into a public document that can serve as evidence should disputes go into litigation. What's more, is that some states require a basic bill of sale to be notarized to prove that the sale is within the boundaries of the law.
3. Are there other commodities that need a basic bill of sale?
Other than from vehicles, livestock, and firearms, other commodities require a basic bill of sale. Furniture and pets are some of them. Any item that needs to be registered under one's name or is regulated by law will need a bill of sale. And as mentioned, a basic bill of sale is usually required to own or sell such commodities legally.
4. When should I use a basic bill of sale?
A basic bill of sale should be used in selling personal property or regulated goods, such as vehicles, furniture, live animals, and firearms. It is also used when selling these goods privately or when applying for a title to these goods. Furthermore, you can also use a basic bill of sale as evidence if disputes go into litigation.
Trading could be seen as one of the most important ways of how humans interacted with each other. It could also be seen as a play between fulfilling one's needs and satisfying one's wants. Or, a simple game of trust as well. Although trade could be as casual as having a conversation, it's always better to be safe by having a basic bill of sale in every transaction.