What Is an All-Terrain Vehicle (ATV) Bill of Sale?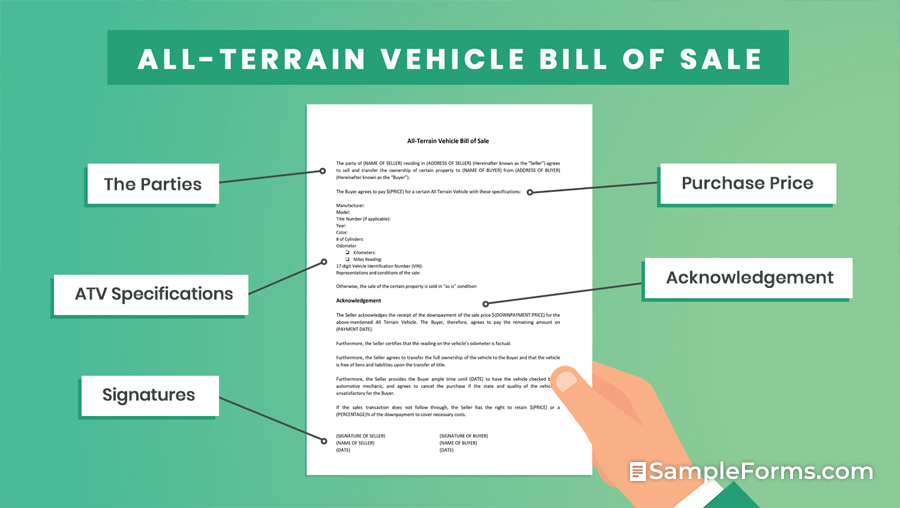 An All-Terrain Vehicle (ATV) Bill of Sale is a legal document indicating the official sale and transfer of ownership from a seller to a buyer. It provides information regarding the vehicle, the buyer's and seller's information, and the amount of money paid. The ATV Bill of Sale also serves as a receipt of the said transaction. Right at the bottom of the document, there you will find an odometer disclosure statement that is required by the Federal and State laws for vehicles below ten years. Failure to provide such information can result in fines and imprisonment.
How to Create an ATV Bill of Sale
What is an all-terrain vehicle, anyway? An all-terrain vehicle is a small, open motor vehicle designed for off-road use. It has three or more low-pressure wheels with one or two seats and handlebars for steering. This off-road vehicle first surfaced in the 1960s and was initially called Amphibious All-Terrain Vehicle (AATV) because of its six wheels. It was eventually reduced to four and is used for recreational purposes and racing today. If you are selling one, or are planning to sell yours, read the step-by-step guide below to document the sale with an ATV Bill of Sale form:
1. Download a Template
Downloading a template will save you so much time than having to make everything from scratch. We have a fillable ATV bill of sale that you can easily modify to fit your needs and preferences. You can edit this template in various file formats of your choice.
2. Include the Seller's and Buyer's Information
To lay the groundwork for your ATV bill of sale, provide the information of you and the buyer. These are the complete names of both parties and their mailing addresses. Ensure that these are both accurate and complete to prevent potential problems in the future.
3. Input the Vehicle's Description
This section will entail the distinguishing characteristics of your vehicle. This will include the maker, model, year, color, number of cylinders, VIN, and title number (in some cases).
Right below the description, the commencement date, the purchase price (may include the sales tax), and the terms and conditions of the transaction are indicated. The terms and conditions will certify the buyer that the vehicle is free from liens, encumbrances, and liabilities. It also emphasizes that the car comes with no warranties or guarantees.
4. Make It Official With Your Signatures
According to Law Depot, there are two main reasons why a party needs to affix their signature in a legal document. First, it identifies the party in the said legal document, and second, it shows that the party has read and understood the contents of the legal document. They are pretty much the important pieces that keep the legal document valid and effective. In your form, don't forget to include your name and date along with your signature.
5. Add an Odometer Disclosure and Notary Details as Required
In cases where your vehicle is below ten years old, you are required to include an odometer disclosure statement. It is required by Federal and State laws to include such because it shows the accurate odometer reading at the effective date of sale, helps prevent the tampering of mileage, and it helps determine if the mileage is continuously increasing.
Some states require the bill of sale to be notarized. If you belong to West Virginia, Louisiana, New Hampshire, Nebraska, Montana, and Maryland, then you might need a notary public to witness you signing the legal document.
FAQs
Is a bill of sale identical to a title?
No, a bill of sale is a document that acts as proof of an official vehicle sale and transfer that has been completed. The bill of sale can be a receipt of the transaction, and it is less formal compared to a title.
Who gets to keep the bill of sale?
Both parties should keep copies of the bill of sale, especially the buyer, because it will be needed for registration and licensing purposes. Regardless of who needs it most, both parties should keep copies of the document for their personal records.
When does a bill of sale expire?
According to Carfax, a bill of sale does not expire unless a return period has been stated by the seller verbally or in writing. The buyer is required to bring to the Motor License Issuer the completed Bill of Sale and Transfer of Ownership form before the return period expires.
Do I need to notarize my bill of sale?
Yes, if you belong to Louisiana, Maryland, Montana, Nebraska, New Hampshire, and West Virginia. These states require a notary public stamp.
Are there titles for ATV?
According to ATV Connection, ATVs have a certificate of origin instead of a title. You are required to acquire a bill of sale from the shop where you bought the ATV to show that you legally own it.
A valid ATV bill of sale legally protects the seller and the buyer from future discrepancies. It is worth going through the hassle of acquiring one than dealing with all the complications and lawsuits in the future. With this legal document, you'll know what you are signing up for because the groundwork and transparency have been laid by both parties to arrive at a unified conclusion.