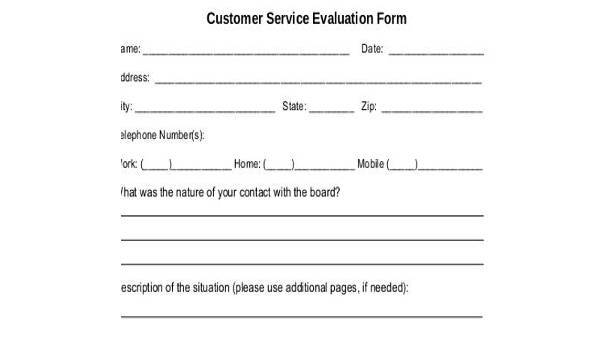 Most business owners and entrepreneurs have the tendency to put more focus on generating profit rather than improving how they go about their ventures. You may be thinking, "Isn't focusing on how to produce profit similar to improving business operations?" No, it is not.
For starters, when business owners hold the central objective of milking as much profit as they can, they are concentrating on the outcome rather than the very process that will lead to achieving it. When business operations are regularly taken care of, profit increase is just among the many benefits a business owner can reap.
Enhancing the way you do business does not just involve providing Evaluation Forms to your customers. Your own initiative is required, in addition to consistency.
Customer Service Evaluation Form
New Customer Evaluation Form
Interactive Customer Evaluation Form
Potential Customer Evaluation Form
How to Bolster Your Marketing Strategy
Efficient marketing practices cannot be developed overnight. Moreover, for most business owners, it can be a matter of trial and error. Doing your research, as well as being open-minded and adaptable, will prove to be advantageous when planning to improve your current marketing strategies, as well as conceive new ones.
Here are some tips you can use so as to enhance and sustain your marketing practices:
Sharpen the methods you use in targeting your market. Are you just discovering that opting for print advertising to make your business known is ineffective? With smart devices currently in prominence, you may want to resort to digital advertising.
Opt for vendors who follow the same ideologies and principles as you. Whether in terms of work ethic or environmental values, choosing vendors who share your principles will ultimately make for a more harmonious and positively influential dynamic.
Continue studying your competition. This is a greatly practical tip and goes beyond keeping tabs of what your competition is up to. You may need to scrutinize your similarities and differences.
Garner feedback. Knowing the effectiveness of your marketing practices can be done simply by talking to your customers or clients, or by letting them answer Marketing Evaluation Forms.
Restaurant Customer Evaluation Form
Customer Evaluation Form Example
Customer Credit Evaluation Form
Customer Feedback Evaluation Form
How to Improve Customer Service and Benefit from It
Apart from working on the marketing strategies you exercise and dealing with Financial Evaluation Forms, improving how you go about your customer service practices is also just as crucial when it comes to enhancing your business operations. This particular step is not limited to catering to your customers' needs. You will need to take a genuine and proactive approach to ensure that the customer service practiced in your business is above par.
These are some points to consider when planning to improve your customer service practices:
Be genuine in expressing your desire to address customer concerns. Before you address a customer's concern and proceed with providing a resolution to their problem, you must first apologize with sincerity. Problem-resolution in any business must begin with conveying to your customers your sense of accountability.
Fulfill the promises your customers have been banking on. Having certainty is important when making promises to your customers. If you are not sure you can fulfill a promise, you are better off not making it at all. And if you have made certain promises, you must fulfill them, otherwise your customers will develop distrust toward you and your business.
Let your reputation and that of your business rely on your approach to customer service.