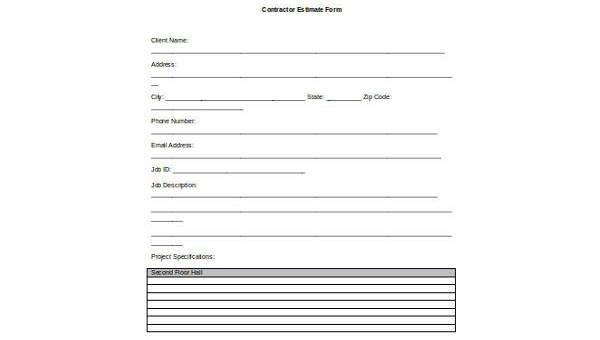 People need to hire certain other professionals or companies for jobs they can't do alone, or for jobs that they know they'll require a good number of people. That's when they hire contractors to make sure that everything is taken care of in the way they want it to, or at least in the way that both they and the contractor can come into agreement to.
However, these contractors don't work for free and they expect to get paid. The question is, how much do you think they need to get paid?
That's why contractors list down all the possible services and materials they'll be providing before doing the job. They'll give out the rough estimate as to how much everything might cost. To make these official, they must use Contractor Estimate Forms.
Free Contractor Financial Management Report Form
Construction Contractor Estimate Form
Contractor Estimate Form in PDF
Contractor Repair Estimate Form
The Different Kinds of Contractor Estimate Forms
There are lots of Contractor Estimate Proposal Forms that just about any contractor can use to help them out when they need to show their client just how much they'll possibly be spending. Here are some examples of these types of forms:
Construction Contractor Estimate Forms are the kind of forms that are utilized by contractors during jobs that require them to do construction work. These are usually handed off to companies so that they'll understand the different kinds of labor and materials that'll be needed before the construction and how much it should all cost.
Contractor Repair Estimate Forms are for those people or companies that need to hire certain contractors when they have things that need to be maintained as soon as possible.
Painting Contractor Estimate Forms are used by those who commission artists for paintings and decorations for any sort of purpose or event. These help out in knowing what materials were used for the painting and what kind of quality they'll be expecting before they spend any money.
Contractor Estimate Form Example
Contractor's Cost Estimate Form
Contractor Estimate Form in Word Format
The Importance of Having Contractor Estimate Forms
It's really important that the contractors list down what they'll be doing and what they'll be using if their hired for any project. That's why there are forms like Contractor Bid Forms, to help out those people that intend to hire others for certain services.
Even if you'd like to know how much you'll be spending for something, these forms will help you out in knowing the rough estimates along with what these people are spending for. These forms will help solve issues such as when a client wonders why the bill is absurdly high. It'll help contractors out and avoid any form of legal action taken against them.