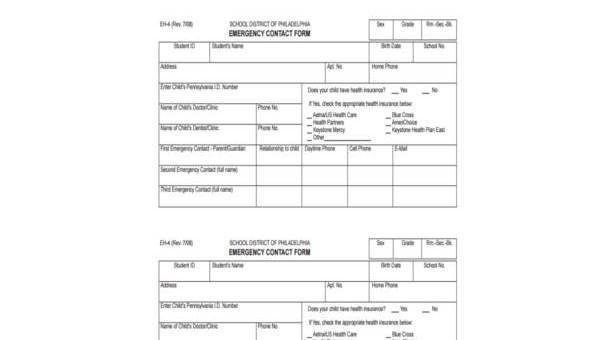 Modern technology has made life much more convenient for everyone. It has made everything so much simpler. Getting from one place to another is no longer that much of a problem, and even buying has become easier with online shopping.
Even contacting someone has become so easy. However, even though it's much easier for us to call one another, you'll need the proper information before you can do so.
So how do you get the information you need? Luckily, there are Contact Information Forms that anyone can get, assuming the info isn't confidential.
Contact Details Form Example
Contact Information Form Example
Business Contact Form Example
Emergency Contact Form Example
Contact Form Sample in Word Format
Fee Contact form
The Different Types of Contact Forms
There are various types of forms for people, or even company owners, to use if ever they need to contact a specific person for different kinds of purposes. Here are some examples of these types of forms:
Emergency Contact Forms are forms that are utilized by just about anyone (companies, firms, event organizers, and more) when something happens to a specific person which requires them to look up that person's emergency contacts.
Business Contact Forms are forms used mainly by companies, big or small. These are used by businessmen when they need to contact other important people who need to make important negotiations with their business.
Employee Contact Forms are used by company managers to contact a certain employee. These kinds of contact information can be used for a wide variety of purposes. It could be that the employee violated company rules or that an employee needs to get back to the office right away.
Student Contact Forms are used by schools whenever they feel the need to contact a certain student for particular reasons. For example, it could be that a certain student is in the danger of failing and the school wishes to inform that student.
Contact Form Example in PDF
Simple Contact Form Example
Student Contact Form Example
Employee Emergency Contact Form Example
The Importance of Having Contact Forms
These kinds of forms can be very useful for just about anyone. Let's say, there was an incident in school involving a student. The school needs to contact the student's parents immediately, so where do they turn to? They look up that student's Parent Contact Form and get the necessary information they need.
Contact information is also really helpful for businesses. These can help set up meetings or even cancel meetings due to unforeseen circumstances. Some employees of certain company's can even use the contact information to inform their company boss that they'll be running a bit late or not coming to work at all.
However, it's also really important that contact information doesn't get into the wrong hands. Some people might not want to have a specific person know their number, so it's best that before handing out someone's contact information to a third party, the holder of the info must know the reason behind such a request.