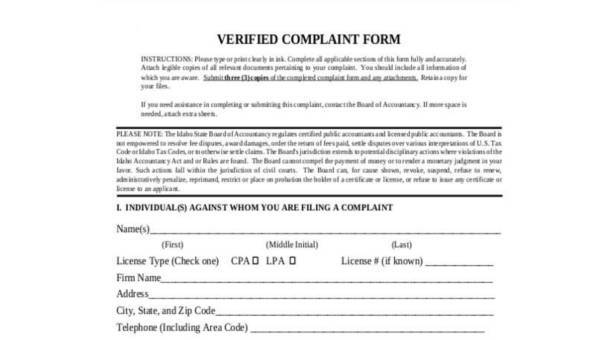 I believe it is absolutely common for us to have something to protest about – whether it's being shortchanged by the auto rickshaw cabbie or being treated like a disposable drudge by an ill-suited supervisor. I have experienced such things, but unlike you, I did not get the chance to take advantage of the Complaint Forms available here to let the other party know I did not appreciate what they did. Though it is never fun to fill out such forms, it is nevertheless important to do so, in order to prevent the erring party from offending someone else, like another customer, down the line.
Verification of Work Authorization Complaint Form
Complaint Verification Request Form
Formal Complaint Verification Form
Employee Complaint Verification Form
I am glad to inform you that Employee Complaint Forms are readily available here for easy downloading, but answering the questionnaires is not that pleasing to be honest, for it would demand you to call to mind the specifics of the unfortunate incident that took place between you and the person/s you are complaining against.
In order for your complaint form to be taken seriously, it is best that it have these qualities:
First, you have to mind your tone. It has to be bold and assertive, yet calm.
Second, though it is never wrong to express yourself more than necessary, it is more important to cut to the chase.
Third, you also have to consider the fact that your writing needs to read optimistically despite the pessimism weighing you down.
And finally, make sure your penmanship is at least legible. This does not mean you have to possess awesome handwriting skills to write down the affront you experienced.
See to it that your personal discontent is not held off. No one and nothing can make you quiet. You have to fight for your right as a thinking, intelligent human being.
Complaint Verification Form in PDF
Complaint Verification Form Example
Complaint Verification Form in Doc
Generic Complaint Verification Form
When you are a patient or a hospital guest, it is expected that you are to be given prompt and proper service; if not, our Medicare Complaint Forms will help you in every way. These forms are up for grabs here on our site, so do feel free to download whichever you find most applicable to your case. Most charges range from the security personnel or doorman's insolence to the attending medical officer's total incompetence. Below are just some of the complaints a medical establishment more often than not receives:
Inadequate care and treatment on the part of the personnel
Lack of discharge specifications
Vague diagnosis
Imprecise medication
Service delays
Complaint forms should always be present at any premise for they are supplied for a reason, that being to know what to refine and what improvements to make for the betterment of the clients. Otherwise, that business will fall to pieces in no time.