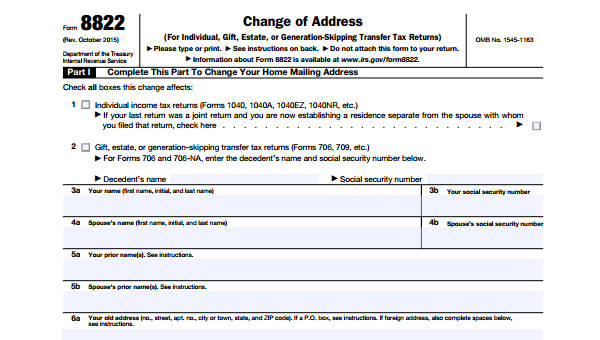 Change is a constant part of life and there will be a point in yours wherein these changes are going to be necessary. One instance would be that you need to change your last name because you're getting married, another would be you needing to change some of your personal information to keep the company you're employed to up to date.
However, some of these changes cannot be done unless they've been properly authorized. And the way to do that is to make sure that the purpose of these changes and their requirements are all documented in the right kind of legal papers.
So what can help out with that? Well, one of the things that can make sure of that is through the use of the right kind of Change Forms like Change Request Forms.
Name Change Form Examples
Change of Name for an Adult
Name Change Request Form
Notice of Name Change Form
Address Change Forms
Address Change Form
Address Change Printable Form
Change Request Form Examples
Record Change Request Form
Project Change Request Form
Candidate Change Request Form
Change Control Request Form
Employee Change Forms
Employee Status Change Form
Current Employee Change Form
Employee Information Change Form
The Different Types and Purposes of these Change Forms
There are many different types of these Change Forms, such as Change Order Forms, that just about any person can use in the event that they need to have anything change and have to ensure that the changes are official. Here are some examples of these types of forms.
For Employee Changes
Employee Information Change Forms are the kind of forms that are utilized by just about every employee in the event that they're required to change specific information about themselves. It's an employee's responsibility to make the necessary changes in their personal information in the establishment they work for, in the event that any of them need to be updated.
One employee might have changed his e-mail address or contact number, in the event that they don't update this and the company needs to contact them, it might result in some serious consequences for both parties.
So if you're planning on changing any information that could be important to the company you're working, then make sure you use these Employee Information Forms.
For Name Changes
Name Change Forms are used specifically as the name implies, to change the name of the person using these forms. There are a multitude of reasons as to why a person may want to change his or her name. One might be because he or she is getting married and that person decides to take her spouse's last name, which will require her to use these forms to make the name change official.
Or another might be using these forms, simply because he or she does not like the current name and wishes to change it. In any case, if these people are going to change their names, they'll have to provide the necessary information and requirements before they do so.
So information such as where the person was born, if he or she has been a resident of a certain country or state for a number of years, Tax and I.D number and much more. So if you plan on changing your name, you better provide all that with the help of these forms.
Patient Change Forms
Patient Information Change Form
Patient Change of Address Form
Patient Status Change Form
Change of Tenant Forms
Change of Landlord/Agent Form
Change of Tenant Form Example
Information Change Forms
Personal Information Change Form
Student Information Change Form
Business Information Change Form
Medicaid Change of Information Form
Provider Change Forms
Provider Information Change Form
Provider Data Change Form
For Change Requests
Project Change Request Forms are used by any person in the event that they need to make changes on certain components of their project. People conduct a lot of projects such as construction or research projects every single day. However, there will be times where they notice errors in specific components of these projects, such as using the wrong type of method, in which they'll need to change.
So with the use of these forms, they may request from their superiors that they would like to make certain changes to the project to ensure its success. Those in charge of approving these requests will need to know the necessary details of these projects before they may approve or disprove any changes.
So knowing things like the title of the project, the sponsor of the project, the purpose of the change and much more.
For Payroll Changes
Employee Payroll Change Forms are used whenever an employee needs to make changes on the amount of monetary compensation he or she receives within the payroll. To every employee, receiving payment for their services is very important because it shows how much effort they put into their jobs.
Which is why if they see a problem with the amount of money they receive, thinking that it isn't equivalent to the amount of hours they put into the company, then they may directly inform their Head of Resources Department.
If the reason for the change has been approved, they may then use these forms to ensure that the specific employee receives the monetary compensation he or she deserves.
Group Change Forms
Group Coverage Change Form
Group Information Change Form
Group Enrollment or Change Form
Payroll Change Forms
Employee Payroll Change Form
Payroll Deduction Change Form
Payroll Status Change Form
Change of Ownership Forms
Change of Vehicle Ownership Form
Change of Car Ownership Form
Payroll Change of Details Form
For Information Changes
Student Information Change Forms are used whenever a student needs to update any of his or her personal information within the educational institution that he or she is enrolled in. It's important that every school is up to date with their student's information.
In the same reason as Employee Information Change Forms, there might be instances where the school will need to contact these students or they might need their personal information for specific uses. If these information aren't updated, then it could lead to serious issues that could affect both the school and the student.
So anything such as the student's name, contact, e-mail, address, or possibly even gender has to updated in the event that any of them have been changed.
Business Information Change Forms are used by just about every company in the event that they'll need to change certain information about themselves. Lets say for example the location of the company has moved to a much better one, but their shipping address is still from their old location.
In situations like this, issues could arise, which is why businesses have to ensure that those involved with them are kept up to date about their information. So any information that can be used to contact or locate them must be updated in the event that they're changed.
Even if the business makes major changes such as change in products and services, then they'll have to use these kind of Business Forms to ensure that their clients and partners understand the changes.
The Importance of Having These Change Forms
If you want your changes to be taken under serious consideration or be properly authorized, then you'll have to use these forms to help you out. These Change Forms ensure that any changes made, whether it's for a work order or for something personal, have at least been considered for authorization.
These forms ensure that these changes go through the necessary evaluations before they can be approved. And the reasons for either accepting or declining these changes must be valid. Because you wouldn't want to hear that your project was declined just because the name sounded stupid right?
So in the event that you need to make certain important changes that need to be approved first, then make sure you use these forms to help make sure that they do.