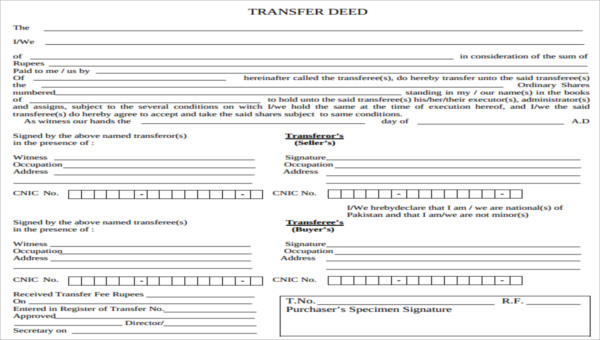 There are so many different types of transfers that people do every  single day. If someone needs to hand over all the right of ownership on a piece of land, they do a property transfer to make it official.
However, just because these transfers are made does not mean that they are official. Let's say that you're about to do a preferential transfer on a client, unless you have the necessary documentation, it cannot be completed. Transfer forms to help out during those moments that you need to hand over everything from the ownership and usage rights to someone else.
Blank Crest
Stock Transfer Form
Blank Share
What is a Blank Transfer?
A blank transfer is a form that is used by the current owner of certain property, but leaves the name of the transferee on the form as blank. Basically, the name of the transferee along with the date of when the property was acquired will not be placed in these forms. Think of these like deed transfer sample forms but lack the necessary as to who received the deed. These can be useful when one needs to transfer the property to others until it reaches the hands of someone who wants to retain all the rights of the property.
Why is a Blank Transfer Unsafe?
The reason as to why issuing a blank transfer is unsafe is simple. Since the name of the transferee and the date of when the property was transferred is not placed, it makes it so much harder to prove who the actual owner is.
If someone manages to get hold of these, they can simply state their name and become the owner of the property.
If someone were to issue a blank stock transfer forms, then it's best that they're very careful as to who they hand it over to. Just make sure that if you use these forms, you know what risks it entails.
Blank Wire
Blank Deed
Blank off Market
What is a Blank Transfer of Shares?
A blank transfer of shares is something that's issued whenever one wishes to transfer his or her shares on a company to someone that he or she deems fit to own.
This is also useful because since there's no name inputted into these forms, in the event that they need to transfer it again, they can do so easily until it reaches to someone that would like to retain the company share. Think of these as title transfer forms but carries more risk as to the who the ownership rights are being handed to.
Where to Buy Blank Transfer Paper?
If you're planning on buying blank transfer paper, then there are certain establishments that focus on selling office supplies. Most establishments that focus on selling office hardware should have these blank transfer papers. Or another way one can get is to print out these forms. There are a lot of transfer form samples here on our website for you to use in the event that you need to print them out and use them for your organization or personal transactions.