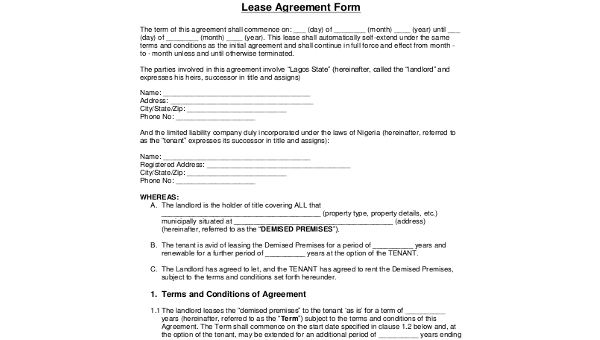 Applying for a lease is somehow similar to a job application. Landlords need applicants to fill out a Lease Form or a Lease Application Form in addition to their application. A Lease Form is the best way for a landlord to run a verification check on an applicant using the information that was provided.
Lease Application Forms allow a landlord to gather pertinent data about an applicant. As a landlord, you do not want to fall prey to renters who are not able to pay the rent on time or who will cause a ruckus in the property. Our downloadable and printable Lease Forms, Blank Lease Agreement Forms, and Printable Lease Agreement Form cover the necessary details that need to be constituted in a Lease Document.
Blank Residential Lease Form
Blank Commercial Lease Form
Blank Vehicle Lease Form
Blank Farm Lease Form
Blank Lease Agreement Form
The Screening Process
After a potential candidate has finished filling out the details of his Lease Application, a landlord can then do the necessary background checks to verify the date being presented by the applicant. The result of the background check will help you determine if a candidate has the capacity to pay rent on time and if he meets the requirements that you are looking for in a tenant.
Background checks can include but are not limited to the checking of an applicant's credit history, criminal records, connecting with current and previous landlords to check if the applicant has a history of eviction, and checking with past or current references provided by the applicant.
Verifying the information about your potential renter will help you gauge if you can accept their application or not. Do not feel obliged to accept a renter who does not yield positive results after you conduct a background check on them. Accepting questionable tenants can only lead to bigger problems.
Qualities of a Qualified Renter
Capacity to Pay
The number one priority in looking for a potential tenant is to ensure that he has the capacity to pay the amount of rent due. The rule of thumb is to check if their monthly income is at least 3 times more than the cost of rent.
Income
An applicant's monthly salary will help you determine if a renter has more than enough to support himself while paying his monthly rental dues; however, it simply doesn't stop there. Landlords also have to check on an applicant's history of employment to see if he has a stable job that will still exist after a span of 6 months to a year.
Credit History
Another way to determine if a tenant has the capacity to pay rent on time is through his credit history. A person who pays his bills on time will have lesser chances of paying rent late.
No History of Eviction
When a tenant has had a history of being evicted, you might want to verify with the applicant and the previous landlord as to why he was evicted. Was it because of late payments? Was he a nuisance? Was there damage caused to the property?
Blank Consent to Lease Application Form
Blank Lease Form Free in PDF
Blank Equipment Lease Form
Blank House Lease Form Example
Room Rental Lease Form
What to Find in a Lease Form
Personal Data
Your Application Form should require a candidate to provide his complete name, date of birth, phone number, e-mail address, Social Security number, driver's license, and current address.
Employment History / Monthly Income
This part of the form requires an applicant to provide a list of his current and previous employers, the contact information of his current and previous supervisors, his work address, and his salary information. The rule of thumb is to let them indicate their employers or supervisors going back at least 5 years.
Criminal Records and Eviction History
Your Lease Form may contain questions that could directly ask the applicant if he has a prior history of eviction or has committed a felony. Landlords can also run a verification of this information. Make sure your state laws allow you to go through an applicant's criminal records and that your Lease Form contains a consent clause that gives you the authority to run a background check on the applicant.
Rental History
In relation to the applicant's eviction history, this portion of the Lease Form lets a candidate provide a list of his rental history within the last 5 years. The tenant should provide the names of his previous and current landlords, their business addresses, and phone numbers to verify if the applicant has no issues with eviction or late payments.