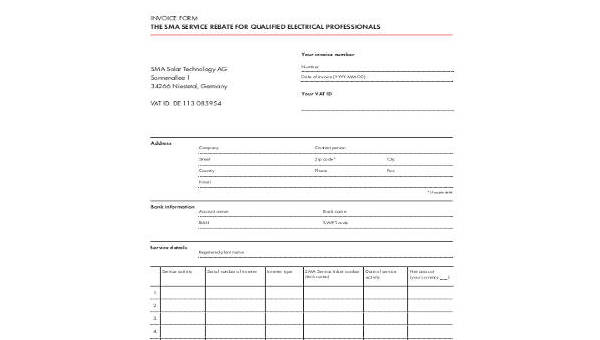 A well-run business typically loads up on data, documents, and paperwork that are all necessary for bookkeeping. Documents that are crucial to the tracking of cash flow in a business need to follow certain procedures or standards that will aid a bookkeeper in easily identifying and interpreting information.
An invoice is a necessary tool that provides pertinent information about the flow of the business. An invoice contains an itemized statement of money used for goods or services rendered. Our Invoice Forms can help you list down payment records easily and track your cash flow without the hassle of having to structure a form from scratch.
Blank Commercial Invoice Form
Blank Printable Invoice Form
Blank Contractor Invoice Form
Blank Repair Invoice Form
Here are the advantages of using an Invoice Form:
Aids in Tracking Payments
Invoices are a great way for you to keep track of all the payments and debts you have for certain products and services. Our Blank Invoice Forms and Generic Invoice Forms can be customized according to your needs. Keeping track of your cash flow is the bread and butter of a running business; therefore, it is crucial that you are able to properly document your money transactions to conduct easier tracking of your earnings and the progress of your business.
Creates Less Room for Errors
Creating an invoice system can help you keep good track of every single expense you make. It properly organizes them so that you won't make any mistakes when it comes to handling your finances.
Promotes Client Transparency
When running a business, customer care is a key note to establish. Invoices ensure that the client understands everything that he or she needs to pay for. This way, you can easily produce information when a client has a billing inquiry and will prevent further billing arguments.
Promotes Professionalism
It's important for professional businesses to provide invoices to their clients. If they're able to do that, they're able to provide the customers with a show of proper care and to let them know that they're a business that will ensure that customers of the kind of payment they should make in an orderly manner.
Quick Way to Track Debt
In a world where public money talks is considered rude, establishing an invoice system is the easiest method to ask for money that is being owed. All you have to do is to send your client an e-mail with an attached invoice to inform him of his balance due.
Customers also find invoices as a great tool to keep track of their expenses and make an itemized record of the products they have shelled out money for.
Blank Invoice Form in Excel Format
Free Blank Invoice Form
Generic Blank Mileage Invoice Form
Blank Sample Proforma Invoice Form
Blank Construction Invoice Form Sample
Here are what you should include in an Invoice:
Each invoice must carry a different type of invoice number for easy tracking of different transactions.
Information about the seller such as his or her complete name, along with any contact information that the seller may provide.
Important information that pertains to the buyer such as his or her name and address.
The delivery date of the products
Date of payment made
Itemization of products or services
A detailed list of the products ordered or the services rendered should be displayed in the form so that customers can see exactly what they are paying for.
This section of the invoice indicates the components used to deliver the product or the services.
Total amount due
The details of the method of payment included in the invoice
Date for  when the client must pay the total amount.