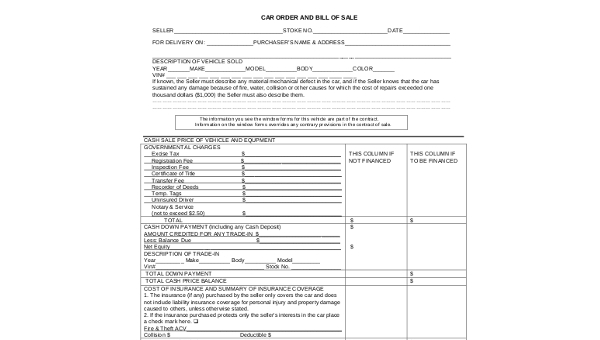 We cover a wide range of Bill of Sale Forms for many of the most common kinds of sale – from vehicles to firearms to retail goods. Here we focus on the buying and selling of cars.
Bills of sale are merely documents that record the transaction between two parties. For it to be legal and to officially transfer ownership rights over the property being sold, it needs to have the right details in writing.
If you're in the business of selling cars or are thinking of selling a secondhand deal languishing in the garage, you'll find these free samples as useful guides or templates. Simply click to download any for free.
Bill of Sale for Car in PDF
Bill of Sale for Used Car
Simple Bill of Sale for Car
Printable Bill of Sale for Car
How to Use These Samples
As with many other Bill of Sale Forms for Vehicle, we take into consideration that different circumstances and conditions of vehicles apply.
To cover as wide a range as could be useful to you, this list covers generic forms that you can simply download and print for official use right away.
We have also included as helpful examples some branded forms from organizations dealing in vehicles, like the DMV and Yukon. These are more detailed and might give you some guidelines on drafting an official bill for your company.
How Do You Write a Bill of Sale?
A Bill of Sale for a Vehicle should generally include these details:
A description of the vehicle, including its vehicle identification number (VIN)
Any warranty, if applicable
The final selling price
Information about the buyer and seller (both parties should have a copy of the bill)
The date of the transaction
You'll find all these free samples comply with these foundational details. Any of them can legally transfer ownership rights of a vehicle for the agreed price.
It is important to note that you can only sell a vehicle you already legally own.
Blank Bill of Sale for Car
DMV Bill of Sale for Car
Example Bill of Sale for Car
Free Bill of Sale for Car
Simple Bill of Sale for Car
Other Templates for Bills of Sale
If you are in the business of selling such goods or services, or if you merely want to make a personal sale official, it'll benefit you to check out some other lists of free bill templates specific to your trade:
If you are selling vehicles, you may use our auto bills of sale forms and vehicle bill of sale forms to cover the sale of motorcycles and even used vehicles, commercial or dealer sales, and private sale.
If you are selling machinery, SampleForm.com's templates for equipment bill of sale can be used for the sale of heavy machinery. These forms are comprehensive and easy to download.
If you are selling a gun that you own, you can check out our samples of firearm bill of sales used for the sale of handguns and other firearms. These forms make your purchase or sale less harder than it has to be.
Trading in anything else we didn't cover here? You'll want some Blank Bill of Sale Forms you can use depending on your needs and specifications.