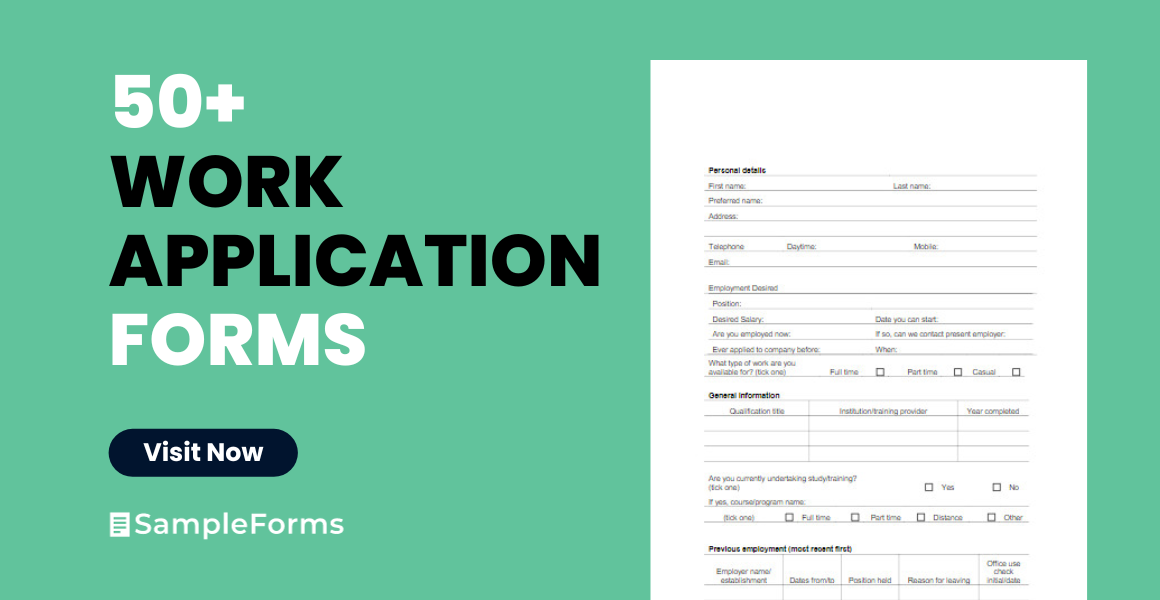 A Work Application Form is the gateway for potential candidates to present their qualifications to employers. It encapsulates personal details, experience, and skills, tailored to gauge suitability for a role. Ranging from generic to specialized forms, each serves a unique hiring purpose. Crafting an effective form is an art, balancing the need for information with candidate ease. This guide will explore the various types, provide examples, and offer tips on creating a form that streamlines the recruitment process.
What is a Work Application Form ? – Definition
A Work Application Form is a standardized document used by employers to collect consistent information from job applicants. It typically includes fields for personal details, educational background, work history, and references. These printable form allows employers to compare candidates on a like-for-like basis, streamlining the hiring process by ensuring that all applicants provide the same information relevant to the job.
What is the Meaning of a Work Application Form?
The meaning of a Work Application Form extends beyond its function as a document. It represents an opportunity for job seekers to showcase their qualifications and for employers to identify potential candidates who meet the specific requirements of a job. These fillable form serves as a preliminary screening tool, facilitating the selection process by providing a structured format for the necessary details that reflect an applicant's suitability for a position. It's the first step in the employment journey, setting the stage for further assessment and interviews.
What is the Best Sample Work Application Form?
Creating the best sample Work Application Form involves careful consideration of the information you need from applicants to make informed hiring decisions. Here's how you can structure the form:
Step 1: Personal Information
Full Name
Contact Information (Phone Number, Email Address)
Address
Preferred Method of Contact
Step 2: Position and Availability
Position Applied For
Desired Salary
Date Available to Start
Type of Employment Sought (Full-time, Part-time, Temporary, etc.)
Step 3: Education and Qualifications
Highest Level of Education
Name of School/Institution
Field of Study
Certifications or Licenses
Step 4: Work Experience
List of Previous Employers (most recent first)
Job Titles
Dates of Employment
Duties and Responsibilities
Reason for Leaving
Step 5: Skills and Competencies
Relevant Skills (e.g., Computer Skills, Language Proficiency)
Any Specialized Training or Workshops
Step 6: References
Name of Reference
Relationship to Applicant
Contact Information
Step 7: Additional Information
Short Answer Section for Applicant to Explain Interest in the Position
Any Contributions They Feel They Can Make to the Company
Step 8: Legal Disclaimers and Signature
Statement of Accuracy and Truthfulness
Consent to Background Checks
Applicant's Signature and Date
Step 9: Equal Opportunity Employer Statement
A brief statement to ensure applicants that hiring decisions are made without regard to race, color, religion, sex, national origin, age, disability, or genetics.
Step 10: Instructions for Submission
Clear instructions on how to return the completed form, whether by email, post, or in person.
Ensure the  blank form is designed with clear, legible fonts and provides enough space for applicants to enter their information. It should be user-friendly and accessible to all potential applicants.
FREE 50+ Work Application Forms
51. Employee Absence from Work Verification Form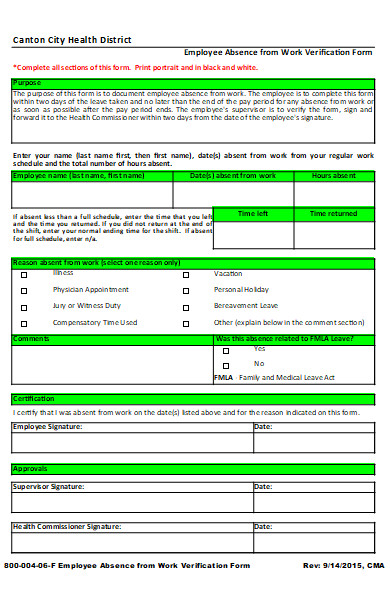 What is the purpose of a Work Application Form?
The purpose of a Work Application Form is to systematically collect pertinent information from job candidates in a standardized format. This form allows employers to screen applicants based on consistent criteria, making it easier to compare qualifications, experience, and suitability for the position. It serves as an initial step in the hiring process, helping to identify candidates who meet the job requirements and who may be invited for further interviews or assessments. Additionally, it creates a formal record of all applicants for a position, aiding in fair hiring practices and compliance with employment regulations. You also browse our Job Application Forms.
How do I fill out a Work Application Form correctly?
Filling out a Work Application Form correctly is crucial to making a positive impression on potential employers. Here's a step-by-step guide to help you complete the form accurately:
1. Read Instructions Carefully:
Before you start, read all the instructions on the form to avoid common mistakes.
2. Gather Necessary Information:
Prepare your personal details, educational background, work history, and references in advance.
3. Complete All Required Fields:
Fill in every section of the form. If a section doesn't apply to you, write 'N/A' (not applicable) instead of leaving it blank.
4. Be Honest:
Provide truthful information. Falsifying details can lead to disqualification or termination.
5. Use a Clear and Legible Font:
If the form is online, ensure your entries are easy to read. If it's a paper form, use black or blue ink and write neatly.
6. Tailor Your Responses:
Align your skills and experience with the job requirements. Highlight relevant qualifications.
6. Proofread:
Check for spelling and grammatical errors, as these can create a negative impression.
7. Be Concise:
Keep your answers brief yet informative; avoid unnecessary details.
8. Sign the Form:
If a signature is required, sign the form to validate your application.
9. Save a Copy:
Keep a copy of the completed form for your records.
10. Submit as Directed:
Follow the employer's instructions for submitting the form, whether it's via email, an online portal, or in person.
By following these steps, you can ensure that your Work Application Form is filled out correctly and presents you as a strong candidate for the job. You should also take a look at our Sample Employment Application Form.
Can I submit a Work Application Form online, or does it need to be in person?
Whether you can submit a Work Application Form online or need to do it in person depends on the employer's application process. Many organizations now prefer or exclusively use online submission methods for convenience and efficiency. However, some may still require or allow in-person submissions, particularly for local businesses or in industries where online processes are not the norm.
Always check the job posting or employer's website for specific instructions on how to submit your basic application form. If in doubt, you can contact the HR department or the hiring manager to confirm the preferred submission method.
What types of Work Application Forms are there?
Work Application Forms come in various types to suit different hiring needs and job levels. Here are some common types:
1. Generic Application Forms:

Standard forms used by many companies for a variety of job openings, asking for basic information like contact details, education, and work history.

2. Position-Specific Forms:

Tailored to a particular job, these forms include questions related to the specific skills and experiences required for the position.

3. Industry-Specific Forms:

Designed for particular industries (e.g., healthcare, construction, IT) with fields relevant to the industry standards and requirements.

4. Government Job Forms:

Used for positions within government agencies, often requiring more detailed information about qualifications and clearances.

5. Executive Application Forms:

For high-level positions, these may require detailed responses about leadership experience, management philosophy, and strategic accomplishments.

6. Internship Application Forms:

Aimed at students or recent graduates, these forms typically focus on educational background, relevant coursework, and any practical experience.

7. Seasonal Job Forms:

For temporary positions, such as holiday retail jobs, focusing on availability and short-term employment history.

8. Volunteer Application Forms:

Used by non-profits and other organizations to understand a volunteer's motivations and skills offered.
Each type of form is designed to extract the most relevant information for the specific role or industry, ensuring that the candidates are evaluated effectively for their potential fit within the company or organization. Our Generic Employment Application Form is also worth a look at
What information is typically required on a Work Application Form?
A Work Application Form typically requires the following information:
1. Personal Information:

Full Name
Address
Phone Number
Email Address
Social Security Number (in some countries for verification purposes)

2. Position Applied For:

The job title of the position you are applying for
Desired Salary or Wage
Date you can start

3. Availability:

Days and hours you are available to work
Any scheduling restrictions

4. Education:

Schools attended
Degrees or certifications obtained
Graduation dates

5. Work Experience:

Previous employers
Job titles
Dates of employment
Responsibilities and duties
Reason for leaving

6. Skills and Qualifications:

Specific skills relevant to the job
Languages spoken
Technical competencies

7. References:

Names and contact information of professional references

8. Legal Questions:

Eligibility to work in the country
Criminal history (if applicable and legally permissible to ask)

9. Signature and Date:

To certify that the information provided is true and accurate
The form may also include additional sections for a cover letter, a resume, or responses to job-specific questions. It's important to read the form carefully and provide complete and accurate information in each section.  In addition, you should review our Printable Application Forms.
How can I ensure my Work Application Form stands out to employers?
To ensure your Work Application Form stands out to employers, consider the following tips:
1. Follow Instructions:

Carefully read and follow all instructions provided with the application form. This shows attention to detail and ability to follow procedures.

2. Complete All Sections:

Fill out every part of the application. Incomplete forms may be disregarded.

3. Tailor Your Responses:

Customize your application for the job you're applying for. Highlight experiences and skills that are most relevant to the position.

4. Be Clear and Concise:

Use clear, concise language to describe your experience and qualifications. Avoid jargon or overly complex sentences.

5. Check for Errors:

Proofread your application multiple times to catch any spelling or grammatical errors.

6. Use Positive Language:

Employ positive and active language that conveys your enthusiasm for the job.

7. Quantify Achievements:

Where possible, use numbers to quantify your achievements and demonstrate your impact in previous roles.

8. Provide Strong References:

Include professional references who can vouch for your qualifications and work ethic.

9. Include a Cover Letter:

If there's an option to include a cover letter, use it to further explain why you're the best fit for the job.

10. Be Honest:

Ensure all the information you provide is accurate. Honesty is crucial for building trust with potential employers.

11. Professional Presentation:

If the form is printed, ensure it's clean, neat, and free of smudges or creases.

12. Follow Up:

After submitting your application, consider sending a polite follow-up email to confirm receipt and express your continued interest in the position.
By taking these steps, you can create a strong impression and increase the chances of your Work Application Form catching an employer's attention.  You may also be interested in our Standard Job Application Forms.
After submitting a Work Application Form, what are the next steps in the job application process?
After submitting a Work Application Form, the next steps in the job application process typically include:
a. Confirmation of Receipt:

Await confirmation that your application has been received. This may come as an automated email or a personal acknowledgment from HR.

b. Review Period:

The employer will review your application along with others to shortlist candidates. This period can vary in length.

c. Screening Call or Email:

If your application stands out, you may receive a call or email from the employer for a preliminary screening.

d. Interviews:

Successful candidates are usually invited for one or more interviews. These could be over the phone, via video call, or in person.

e. Assessment Tests:

Depending on the role, you might be asked to complete assessment tests or exercises to demonstrate your skills.

f. Reference Checks:

The employer may contact your references to verify your experience and qualifications.

g. Job Offer:

If you are selected for the position, the employer will extend a job offer, which you can accept, negotiate, or decline.

h. Background Checks:

For some positions, a background check will be conducted before the job offer is finalized.

i. Onboarding:

Once an offer is accepted, you'll go through the onboarding process, which includes filling out employment paperwork, and may also involve training sessions.
Throughout these steps, it's important to remain proactive. You can follow up on your application form in MS Word if you haven't heard back within a reasonable time frame, prepare thoroughly for interviews, and continue to express your enthusiasm for the role.
How detailed should my job descriptions be on a Work Application Form?
On a Work Application Form, job descriptions should be detailed enough to highlight your relevant experience and showcase your skills, but concise enough to keep the employer's attention. Aim to include:
Job Title: Clearly state your official position.
Employment Dates: Provide the duration of your employment in month/year format.
Key Responsibilities: Summarize your main tasks and duties, focusing on those that are relevant to the job you're applying for.
Achievements: Mention any notable accomplishments or contributions, using quantifiable results when possible.
Skills Developed: Briefly describe the skills you honed or acquired that are transferable to the new position.
Avoid overly lengthy descriptions or personal anecdotes. Instead, provide clear and succinct bullet points that an employer can quickly scan.
How to Create a Work Application Form? – a Step by Step Guide
Creating a Work Application Form involves several thoughtful steps to ensure it gathers all the necessary information from candidates. Here's a step-by-step guide:
Step 1: Define the Purpose
Understand what information you need to determine a candidate's suitability for the role.
Step 2: Choose a Format
Decide whether the form will be digital or paper-based.
For digital forms, consider using form builder tools that can create user-friendly and accessible forms.
Step 3: Gather Basic Information
Start with sections for personal details like full name, contact information, and address.
Step 4: Detail Employment History
Include sections for work experience, starting with the most recent job.
Ask for job titles, company names, dates of employment, and reasons for leaving.
Step 5: Include Education Section
Request details of the candidate's educational background, including institutions attended, degrees earned, and dates of attendance.
Step 6: Add a Skills Inventory
Create a section where candidates can list their skills relevant to the job.
Step 7: Request References
Ask for professional references, including names, relationship to the candidate, and contact information.
Step 8: Incorporate Job-Specific Questions
Include questions that allow candidates to demonstrate their understanding of the role and their ability to perform job-specific tasks.
Step 9: Legal Compliance
Ensure the form complies with employment laws, including equal opportunity employment and privacy regulations.
Step 10: Review and Revise
Have the form reviewed by HR and legal teams to ensure all necessary information is included and it's legally compliant.
Step 11: Pilot the Form
Test the form with a small group to ensure clarity and ease of use.
Step 12: Finalize and Distribute
Make any necessary adjustments based on feedback.
Finalize the form and make it available to applicants through the chosen distribution method.
Step 13: Provide Instructions for Submission
Clearly state how the form should be submitted, including any deadlines.
Step 14: Confirmation Process
Set up an automated confirmation receipt for online forms or a process for confirming receipt of paper forms.
By following these steps, you can create a comprehensive Work Application Form that will streamline the hiring process and help you find the best candidates for your open positions.
Tips for creating an Effective Work Application Form
Creating an effective Work Application Form is crucial for streamlining the hiring process and identifying the best candidates. Here are some tips to ensure your form is efficient and user-friendly:
Clarity is Key:

Use clear, concise language and avoid jargon that might confuse applicants.

Logical Flow:

Organize the form logically, typically starting with personal information and proceeding through education, work experience, and skills.

Relevant Sections:

Include sections that are relevant to the position. Avoid unnecessary fields that don't contribute to assessing the candidate's suitability.

Keep It Concise:

Request only the information you need. Lengthy forms can deter potential applicants.

Use Standardized Fields:

Standardize entries for dates, phone numbers, and other common fields to simplify data entry and ensure consistency.

Incorporate White Space:

Design the form with plenty of white space to make it easy to read and fill out.

Mobile-Friendly Design:

If the form is online, ensure it is mobile-responsive as many applicants use their phones to apply for jobs.

Include Instructions:

Provide clear instructions for each section to guide applicants on how to complete the form correctly.

Allow Save and Return:

For longer forms, give applicants the option to save their progress and continue later.

Privacy Statement:

Include a privacy statement explaining how the information will be used and stored.

Accessibility:

Ensure the form is accessible to individuals with disabilities, adhering to web content accessibility guidelines.

Proofread:

Check the form for typos and grammatical errors to maintain professionalism.

Test the Form:

Before going live, test the form internally to catch any issues with the submission process.

Feedback Loop:

Consider asking for feedback on the form from recent hires to improve it for future applicants.

Legal Compliance:

Verify that the form complies with all relevant employment laws, including anti-discrimination legislation.
By following these tips, you can create a Work Application Form that is not only effective in gathering necessary information but also respectful of the applicant's time and effort.
A Work Application Form is a pivotal tool in the recruitment process, designed to uniformly collect applicant data for evaluation. It varies in type to align with different roles and industries, with each form tailored to extract job-relevant information. This guide provides a roadmap for creating effective forms, ensuring a streamlined hiring workflow that facilitates the identification of top candidates while maintaining a user-friendly approach for applicants. You may also be interested to browse through our other employment application forms and new Job Application Form.