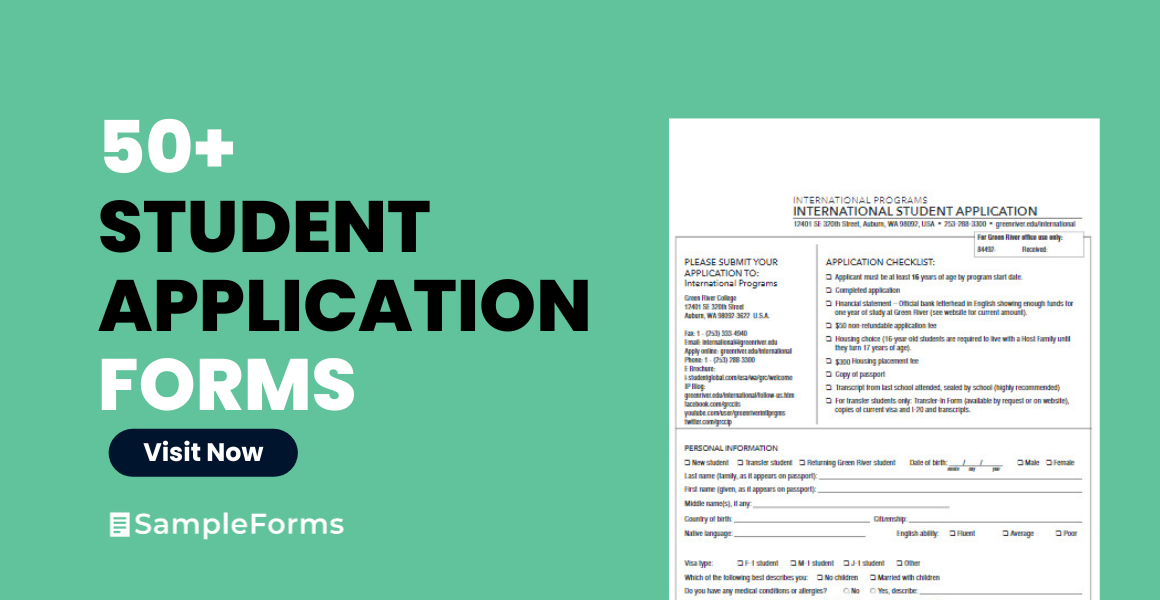 A Student Application Form is a gateway for learners seeking new educational horizons. It ranges from college enrollment to scholarship entries, each tailored to gather specific applicant details. For instance, a medical school application differs from a music academy's form. Crafting one requires an understanding of what information is essential. This guide will navigate through the meanings, types, and examples, offering insights on creation and practical tips to design a form that efficiently extracts and organizes pertinent student information.
What is a Student Application Form ? – Definition
A Student Application Form is a document used by educational institutions to collect necessary personal, educational, and sometimes financial information from prospective students. It serves as a formal request form for admission into a program or school, and is the first step in the enrollment process, enabling institutions to assess the eligibility and suitability of candidates for the academic offerings they provide.
What is the Meaning of a Student Application Form?
A Student Application Form represents the initial step in the educational journey of a student, serving as a means to formally request enrollment in an academic program. It encapsulates the candidate's personal background, academic qualifications, and aspirations, enabling institutions to evaluate their potential for admission. These fillable form not only functions as a data collection tool but also as a student's introduction, setting the stage for their academic narrative and future learning opportunities.
What is the Best Sample Student Application Form?
A best sample Student Application Form would typically include:
1. Personal Information Section:
Full Name
Date of Birth
Contact Information (phone, email)
Permanent Address
2. Educational Background:
High School Information
GPA, class rank, and standardized test scores (if applicable)
Previous institutions attended
Relevant coursework or academic achievements
3. Extracurricular Activities:
Clubs, sports, volunteer work, and other non-academic interests
4. Personal Statement or Essay:
A written piece that gives insight into the student's motivations, goals, and personality
5. References or Letters of Recommendation:
Names and contact details of teachers or mentors who can vouch for the student's abilities
6. Program-Specific Information:
The desired field of study or major
Any specific faculty or program within the institution the student wishes to join
7. Financial Information:
Need for financial aid or scholarships
Employment history, if relevant
8. Supporting Documents:
Transcripts, portfolios, or any additional certifications
9. Declaration and Signature:
A statement verifying the truthfulness of the information provided, followed by the student's signature and date
This comprehensive format ensures that the institution gathers all necessary information to make an informed decision while also providing the student an opportunity to present themselves holistically. You also browse our Admission Forms.
FREE 50+ Student Application Forms
51. Visiting Student Request Form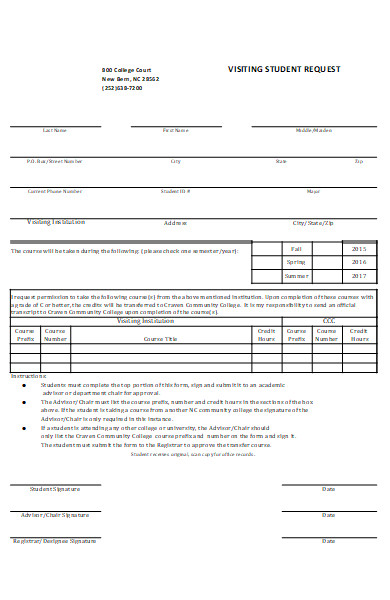 How to fill a student application form?
Filling out a student application form typically involves several careful steps:
1. Gather Information:
Collect all necessary personal information, academic records, test scores, and any other required documents.
2. Read Instructions:
Carefully read the application instructions to understand the requirements and expectations.
3. Fill in Personal Details:
Accurately enter your name, date of birth, contact information, and any other personal details requested.
4. Academic History:
Provide your educational background, including schools attended, coursework, grades, and any honors or distinctions.
5. Standardized Test Scores:
Enter your scores for any applicable standardized tests, if required.
6. Extracurricular Activities:
List your involvement in clubs, sports, volunteer work, and other non-academic interests.
7. Write Essays or Personal Statements:
Compose thoughtful and well-written essays or personal statements, as requested, and proofread them carefully.
8. Letters of Recommendation:
Include or arrange for the submission of any required letters of recommendation.
9. Review Financial Information Section:
If there's a section for financial information, fill it out accurately to apply for financial aid or scholarships.
10. Double-Check Everything:
Review all entries for accuracy and completeness.
11. Submit Supporting Documents:
Attach or send in any required documents such as transcripts, portfolios, or proof of achievements.
12. Declaration and Consent:
Sign any declarations, consents, or agreements, often at the end of the application.
13. Submission:
Submit the application before the deadline, either online or by mail as specified.
14. Follow Up:
After submission, ensure to follow up on any additional steps such as interviews or supplementary information requests.
Remember, each application may have unique components, so always tailor your approach to the specific printable form you're completing.
What should be included in a High School Student Application Form?