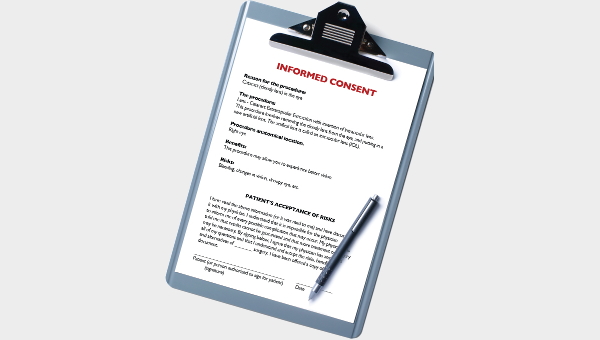 The consent of a private individual or a representative of a business/organization is necessary in some processes especially if it concerns the usage of confidential information or the discussion of matters and instances that concern children that are not of legal age. Providing your consent means that you are allowing other people to have the right to speak or act in your behalf, may it be to use your name for transactions or to do something where your authorization is beneficial for easier and faster processing.
There are various reasons why consents are given. Some are within the premises of the business and professional industry while some are also usable in school activities and academic programs. More so, there are transactions within organizations that need consents for them to push through and be realized.  The consent of an individual can be in the form of writing or it can also be stated in a verbal manner. If you would like your consent to be more enforceable, documented and binding; then writing it is the next thing to do.
Basic Medical Consent Form
Caregiver Consent Form For Medical Treatment
Child Medical Consent Form
Basic Minor Medical Consent Form
Basic Informed Consent Form
Informed Medical Consent Form
Human Informed Consent Form
General Informed Consent Form
Basic Photo Consent Form
Employee Photo Consent Form
Dental Photo Consent Form
Medical Photo Consent Form
Parental Consent Form
Consent to Terminate Parental Rights Form
Parental Consent Form Photography
Parent Consent Form for Sports
The Importance of Consent Forms
Consent forms are beneficial in a lot of ways possible especially if it concerns trust and approval. Having written consent forms gives you reference and proper documentation to back you up during disputes or litigation.
If a consent form has already been signed by the person who is giving authorization, then it means that the document can already be used as a proof of the person's voluntary decision to give permission to whatever the content of the form is about.
Consent can be given in many differing situations. In business, for example, consent can be given on behalf of someone to perform duties or obligations that the person in charge is not capable of doing at the moment. Below is a list of the different types of consent:
Implied Consent
Implied consents are given by individuals in an indirect manner per situation. These consents can be from an existing agreement, just like the laws that are implemented in the United States for drivers. If you will browse through the laws in different states regarding the licensing of drivers, you can see a clause that discusses the approval of individuals to be under the conduct of investigation for drunk driving through sobriety tests. This implied consent is necessary to make sure that citizen will be more aware and will follow driving rules and regulations to avoid accidents and the like.
Informed Consent
If an implied consent is highly-usable in the processes of road safety, an informed consent on the other hand is mostly used in the field of medicine. Typically, an informed consent serves as a proof that a patient or any legal representative has agreed upon the continuation of a medical process given the fact that possible risks have already been stated by the attending doctor.
Expressed Consent
Expressed consent is the direct consent given by an individual within the duration of a current situation or instance. Expressed consents can be written or verbally stated. There are expressed consents that are also just in the form of a nod or any other body gestures that specifies agreement. Though expressed consents are easier to give compared to other kinds of consents, be reminded that expressions and non-written consents are not solid proofs that a particular consent has truly been given which is why they may not be used as evidences during court trials.
Unanimous Consent
A unanimous consent is used when there is a need for a group or organization to provide an approval of a process where the entire body is considered to agree on what has been stated. Simply stated, unanimous consents take place when there are no objections that have been raised. Unanimous or general consents are commonly used in the senate. More so, this kind of consent is also usable in parliamentary procedures.
Substituted Consent
When situations arise where an individual is not able or is not competent enough to decide for himself/herself, then the need for a substituted consent may take place. A substituted consent is applicable in decision-making where an under aged individual is involved.
Using substituted consent can come in different manners. This can be in a form of a travel consent if the child will travel alone or if the parents of the under aged child is not with him/her during the trip. Another instance where substitute consent can be used is when an authority is obtained by a guardian to decide about the medical needs of a child in the absence of the parents.
The ability to provide a real consent form is very important as consents can be identified with legal matters. With this, you need to make sure that you will write a consent form accordingly rather than just stating your approval. More so, remember that there are different kinds of consents which is why it is necessary to be knowledgeable of those so you can make use of them appropriately and accordingly.
Basic Interview Consent Form
Patient Interview Consent Form
Family Interview Consent Form
Client Interviewee Consent Form
Consent To Treat Form
Minor Consent to Treat Form
Emergency Consent to Treat Form
Medical Consent to Treat Form
Survey Consent Form
Informed Consent Survey Form
Consent Form for Survey Research
Consent Form for Anonymous Survey
Travel Consent Form
Child Travel Consent Form
Minor Travel Consent Form
Parental Travel Consent Form
Different Examples of Consent Forms
Consents are used varying on the situation where they are beneficial. Since there are different instances where consents may be needed, writing a consent form should be based on the current and actual scenario and not just on what is being stated in a template or a readily-made document. However, you can still make use of templates to your advantage. All you need to do is to use the format of a specific consent form template that is relevant to your need and edit its content depending on the details that you would like to specify.
If you still do not know the different kinds of consent forms, below are some of its different classifications:
Informed Medical Consent
Informed medical consent forms are important to be given by a patient or a legal representative before a medical procedure takes place. Also, this form should be received by the hospital if they need to intervene on the processes that are concerning the health of a patient. There are medical guidelines and ethics that are necessary to be honored and followed when using an informed medical consent. One of the most important of these is that all the facts regarding the implications, possible effects and consequences of a particular medical practice, procedure or action are clearly stated to the patient and/or their legal representatives.
An informed consent form should be signed by all parties involved for it to be fully usable and effective. If you are a patient or the guardian/legal representative of a patient, you need to make sure that you are aware of the following before affixing your signature in the specified document:
The entire procedure that will be done to the patient
The possible benefits and advantages that the patient may experience after the treatment
The possible risks that are attached to the procedure as well
The list of options that can be possibly done should the patient not approve of the suggested treatment
The risks of using alternative methods if the initial suggestion has not been approved
Be reminded that it is your right as a patient to review the entire document before signing it. Also, you have the right to be keen with the details that will be presented to you especially those that you are not familiar with.
List down the questions that you would like to ask before deciding to push through with the procedure. More so, do not be pressured by time duration as hospitals and other medical institutions will most likely give you enough time to decide about the transaction where the informed medical consent form is needed. However, there are some cases where an immediate answer is deemed necessary especially during medical emergencies.
Child Travel Consent Forms
Child Travel Consent Form Free
Child Travel Medical Consent Form
Printable Child Travel Alone Consent Form
Basic Informed Consent Forms
Informed Consent Form Example
Participant Informed Consent Form
Minor Children to Travel Consent Form
Basic Health Consent form
Mental Health Consent Form
Home Health Consent Form
Health Screening Consent Form
Medical Consent Form
Child Travel Consent Forms
If you want a smooth-sailing trip with a child without encountering any issues with authorities at the airport, it is best to have a Travel Consent Form on-hand. You need to make sure that the child travel consent form that you will present is notarized. Also, it should include all the details that are essential and relevant to the trip.
A Child Travel Consent is a means to protect a child's interest when travelling abroad. A basic travel consent form used by children sixteen years old and below usually have these information:
The personal information about the child which includes his/her full name, age, and address
The destination where the child will go
The entire duration of the trip
The contact information of the child's parents for emergency purposes
The purpose of the trip
By serving a Consent Form or a Parental Consent Form, authorities are able to determine if a parent is aware that their kid is travelling and has given authorization to travel with their friends, relatives, or in custody cases, with the other parent.
When to Use A Child Travel Consent Form
A child travel consent form can be used in the following circumstances:
If a child has no option but to travel alone
If there is only one parent who will accompany a child in his/her travel
If students will travel for a field trip and they are under the care of a teacher or any other school official
If a child will travel with relatives, without the presence of any immediate family member
If a child will be traveling with friends
If a child who will travel has a different surname compared to his/her parent
If a child will be accompanied by a caregiver or a nanny
Child Medical Consent
Using a child medical consent can come in handy in situations where the presence of the parents of a child is not available. An example of this is during field trips where a school personnel is held responsible for the child's safety and security.
Having a child medical consent will allow school personnel to decide on the medical treatment that will be given to the child should emergencies occur during the trip. There are pros and cons in using this tool which is why it is necessary for a parent to make a school personnel fully aware of any medical condition a child is currently in before handing over a child medical consent.