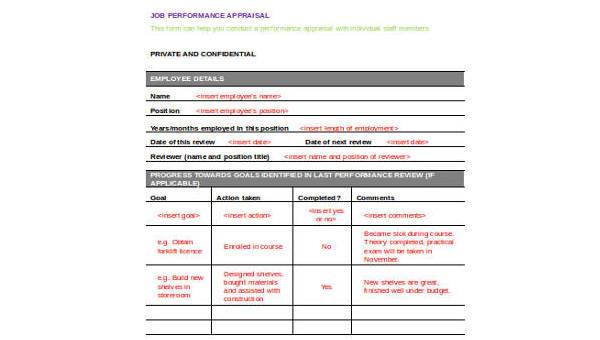 In order to achieve total success, one must take on ambitious projects and a ton of stressful deadlines. Whether individually or by team, this will be measured out completely depending on the reactions of the employees.
The perks of having Appraisal Forms recorded is to avoid certain mistakes from happening again in order to save company resources and time. It also helps create more ideal actions to solve problems easily and effectively. With over twenty-four unique items which you can modify and print, these will help your company improve greater than you expected.
Self Appraisal Form in PDF Format
Performance Appraisal Form Format
Annual Appraisal Form Example Format
Employee Appraisal Form Format
Faculty Appraisal Form in Word Format
In the corporate world, one must understand the importance of self-assessment and the role it plays in affecting an employee's performance. With each project or idea made, it is vital to reflect back on the changes and the possible outcomes of the employee's experiences to discover more ways of effectively completing tasks. Through this site, you will be able to gain access to formats for Self Appraisal Forms and Staff Appraisal Forms to help track changes in the productivity of employees.
The importance of Staff Appraisal Forms mainly focuses on the performances and improvements of the staff in the duration of the project and work time period. With up to nine forms available in flexible formats, these will be able to provide you the answers you need in terms of improvements and production reports. With Self Appraisal Forms, these provide their own point of view and observations about employees' performances in specific activities. These also help employees realize what they need to improve to achieve their own goals for the company.
These will provide amazing input in the way you see your employees' improvements. You will also understand their performance more through their personal to company feedback.
Sample Auto Appraisal Form
Vehicle Appraisal Form in PDF
General Health Appraisal Form
Job Performance Appraisal Form
Jewelry Appraisal Form Example
When the company reaches a year, it is a great achievement for the employers and employees for a job well done. But before the celebrations of aging companies, new companies require important documents of track records and reports in order to fully function in years to come. Since there is a wider scope covered by these reports, it is important to keep them in file for future purposes.
What are Annual Appraisal Forms? These forms are ideal for keeping record of the past problems, solutions, and better ideas in order to successfully understand recurring mistakes. These provide a detailed explanation as to how the decisions and brainstorming went and for one to gauge a clearer understanding of the circumstance. These formats were specially designed to be simple yet detailed enough to cover different aspects in one form to save on time and effort.
If ever you want to create your own version in order to ask for more details, you have to keep in mind the requirements of an effective format. These will help you reorganize your company's goals and understand the areas needed for improvement. These also summarize the problems encountered in the past years in an orderly manner.