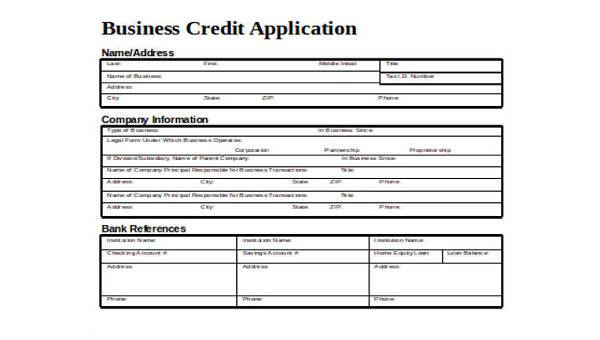 Application forms are the fastest tools that are used by companies or organization when they need to collect data. Application forms usually aid in obtaining accurate data and help to promote proper documentation and organization of information that can later be used as reference.
Application forms are not only used during the recruitment processes of businesses as there are also entities that can benefit from using application forms in different manners. It is essential for an application form to contain all the items that are needed to be documented by an entity about a person. As an effective source of information, application forms should be comprehensive, well-formatted and organized.
Job Application Form in Word
Customization Employee Job Application Form
Teacher Job Application Form in Word
Standard Job Application Form
Tenant Application Form
Tenant Verify Application Form
Tenant Application Form for Property Management
Residential Tenant Application Form
Rental Application Form
Residential Rental Application Form
Rental Agreement Application Form in Word
Rental Housing Application Form
Loan Application Form
Personal Loan Application Form
Loan Application Form With Checklist
Loan Application Request Form in Word
Credit Application Form
Customer Credit Application Form
Credit Application Form for Trade Account
Business Credit Application Form
Applications Forms differ according to their purpose. Below are some of the common types of Application Forms and a description of each on of them. You can also download our free sample application form templates, which are available in Doc or PDF formats. You can choose from our wide array of templates raging from Job Application Forms to Rental Application Forms.
Job Application Forms
A Job Application Form is an essentially helpful tool in the recruitment process because it allows recruiters to spot inconsistencies and exaggerations in their resumes. A Job Application Form allows an applicant to provide details about himself that are considerably relevant to the work position that he is vying for.
A Job Application Form and a resume usually have almost identical content. The only difference between both types of paperwork is that one is submitted by an applicant to an employer while the other is provided by an employer to an applicant and then submitted by the applicant back to the employer after having filled it out.
Despite the similarities, the uses of the resume and the Job Application Form are slightly different. While resumes are designed by job applicants to make them look appealing and to create an impression that they want to leave on employers, Job Application Forms are designed to detect any type of information provided in a resume that may have been exaggerated or worse, may have been falsified. In addition, the information that is being placed in an application form will also be useful as a reference in the event that an employee does get hired.
The Benefits of Using Job Application Forms
Provide Quick and Efficient Hiring Processes
Using a Job Application Form helps to quicken the pace in hiring or recruiting new employees because it allows recruiters and employers to have quick and easy access to information that is relevant to an applicant's set of skills and abilities as well as his work experience. This allows employers to understand a candidate's background and to profile the candidate into a department or a team where he can potentially maximize his strong suits, his skills, talents, and abilities.
Aids Employers in Conducting Employee Verification
Employee Verification is the process of conducting a thorough background check on the authenticity of the information that has been provided by an applicant in his resume or in his Job Application Form. There is an amazingly large number of applicants who falsify the information they indicate on their resumes, or those who sweep bad employment history under the rug when they are interviewed. This is because the competition for a job is also high.
By using a Job Application Form, employers will be able to gather sufficient data that is needed to conduct a screening and verification of an employee's information. Employee Verification can either be conducted through the aid of a third party or employers and recruiters can conduct verification on their own by contracting the applicant's previous and current employers.
Provides a Standardized Format
A Job Application Form is usually created to fit the standards of the company and often comes in a uniform format. Because of this, recruiters will not have to go through the trouble of jumping from one page to another to locate a piece of information that they are looking for. Because Job Applications follow a standard template among all employees, recruiters will eventually become familiar with its different sections by heart, making it easier for them to find what they need, and helping them save on time.
What Are the Required Fields in a Job Application Form?
There are no specific guidelines to follow when making a Job Application Form. The contents of a Job Application usually depend on the type of company and the position that is being applied for. However, application forms commonly require an applicant to provide his personal information such as his name, date of birth, age, address, e-mail address, phone number, mobile number, the position being applied for, the applicant's educational background, and the applicant's employment history.
Student Application Form
Student Admission Application Form
Student Mobility Application Form
New Student Application Form
Leave Application Form
Leave Application Form for Company
Vacation Leave Application Form
Casual Leave Application Form
Application Form for Employment in Word
Job Application for Employment Form
LIC Application for Employment Form
Application Form for Employment Current
Lease Application Form
Lease Agreement Application Form
Residential House Lease Application Form
Commercial Lease Application Form
Rental Application Forms
A Rental Application Form is a form that is used by landlords in order for them to gather data about a person who is applying for tenancy. The information that the landlords will get must then be verified to ensure that the applicant is qualified for tenancy. This will allow the property owner to have an idea on whether a tenant is capable of paying the rent or not.
Aside from knowing the capability of an applicant to pay, using a rental application form can also be used as a reference to know whether an applicant will not be a threat to the other tenants of the property. Records of past tenancy can also be browsed through during the process. Most background checks that are done through the help of rental application forms include the following:
Credit History Reference
A credit check is done to identify the following:
The sources of income of the applicant to ensure that he/she can pay the rent
The ability of the tenant to pay the monthly rent on the specified time within the agreement
The updated record on whether an applicant has financial issues with other entities
Credit checks should be properly implemented. There are also some countries or states that do not allow this process as some information relevant to the credit history of an individual can be too private, personal and confidential.
Criminal Records
Some forms directly ask a tenant if he has been involved in any legal proceedings related to criminal activities. It is sometimes best to be upfront with your applicants to let them know that you are verifying their identity for your own best interests. As with credit checks, verifying a renter's criminal record varies according to the laws governing a particular state. It is best to check on your state laws prior to checking if an applicant has committed a felony or not. Looking into a person's criminal record allows a landlord to see if an applicant has committed a felony. Some states do not allow landlords to reject a tenant based on their criminal history. However, for some people, knowing a renter's criminal history can be a precautionary measure.
History of Eviction
Rental Application Forms usually require applicants to indicate the names, business address, and the contact information of their previous or current landlords. A person's rental history allows landlords to draw up an image of the type of tenant the applicant will be. This is for the purpose of connecting with them to verify if they are privy to the fact that the tenant is planning to move out or if the tenant has a history of eviction or has been sued for property damage.
These fields are necessary in order for a landlord to gauge if accepting a tenant is worth the risk or if he will be more of a liability. Landlords also need to consider if a tenant will be able to maintain a peaceful relationship between you and other renters and if you will not have trouble demanding for rental fees from him.
Employment Background
Gathering details about a tenant's employment is another way for you to make sure that he has the means to pay you. By making sure that an applicant has a stable job that he has had for at least 6 months, you can at least be sure that he won't suddenly be unemployed and won't be able to pay you.
Confirming the information relating to the employment status of an individual can be done in several methods. You may contact previous employers directly, you can ask for a copy of the employee's Certificate of Employment, or you can also require them to submit a copy of their payslip for over the past 3 months.
After a tenant has filled out a Rental Application Form, the first step you need to do is a background check and a credit check on the applicant if the candidate has the means to pay his monthly dues and if he meets the specific criteria that you are looking for in a renter.
Background checks typically include the checking of their credit history, looking into criminal records, connecting with their previous landlords and determining if the applicant has issues with late payments, and contacting their supervisors to verify if the applicant has a stable job.
How to Determine if an Applicant Qualifies for Tenancy
Has the Capacity to Pay
A landlord needs to make sure that the applicant has a stable job and has the capacity to pay his monthly dues. Land-lording is a form of business and the business relies on payments made for rental. Dwelling in a rental space means that you have to make a payment for it because it doesn't come for free.
Maintains a Good Credit Score
A renter who has a good credit standing means that he is able to manage his finances properly. A person's credit history is a good place to look at if you want to check if the person has a habit of making late payments or not.
Has a Stable Source of Income
The rule of thumb is that a tenant's income has to be at least 2-3 times bigger than the amount of rent due. This allows the tenant to pay his financial obligations as well as his personal expenditures.
What to Include in a Rental Application Form
Tenant's Personal Data
Your Rental Application Form should require an applicant to provide his personal details such as his name, date of birth, and contact information.
Employment History
This part of the form requires an applicant to provide a list of his current and previous employers, the contact information of his current and previous supervisors, his work address, and his salary information. The rule of thumb is to let them indicate their employers or supervisors going back to at least 5 years. It is also wise to require a copy of the employee's payroll slip over the last 6 months.
Rental History
Your tenant should provide details about his rental history, which should go back at least 5 years. The form should include the names, the service address, and contact details of the previous landlord. This information will be necessary for you to check if an applicant has a history of eviction, incurring damage to property, or late payments.
Housing Application Form
Housing List Application Form
Housing Loan Scheme Application Form in Word
Lodgings Application Form
Commercial Lease Application Forms
Commercial Lease Application Form for Property
Commercial Letting Application Form
Commercial Tenancy Application Form
Mortgage Application Form
Mortgage Loan Application Form
Mortgage Relief Application Form
Vendor Application Form
Vendor Registration Application Form
Electronic Vendor Application Form
Subcontractor Vendor Application Form
Passport Application Form
New Passport Application Form
Application Form for Indian Passport
Branch Passport Application Form
Volunteer Application Forms
Volunteer projects need to ensure that they can gather people who are more than willing to help in a variety of procedures and processes to make a program successful. These volunteers are entrusted with the items that will be given to the people in need may it be monetary or in a form of material things. With this, organizations need to be cautious when letting volunteer applicants have access to the specified items as some can use it for their own benefit and advantage. Nonprofit organizations use volunteer application forms so they can assess whether a person is qualified to be a volunteer or not. Some of the things that these organizations look for are as follows:
Character reference
Volunteer programs involvement history
Technical skills and other skills set  necessary for a particular volunteering operation
If you wish to apply as a volunteer, ensure that your volunteer application form will be amazing and well-curated not only because of your qualifications but also your attitude and desire to help.
Credit Card Application Form
Applying for a credit card should be decided accordingly as it entails responsibility especially when it comes to the payment of your credits. Before applying for one, make sure that you are aware of the information and items that you need to provide a bank with so you can acquire a credit card. One of these documents is a credit card application form which is given by the bank where you will apply for the said card.
It sure does help to purchase items through borrowed money. You can also have different payment terms which can make it flexible for you in terms of balancing your finances. There are different regulations applied on credit card loans; and as a responsible credit card holder, you need to be fully knowledgeable of these regulations.
Select from a variety of templates and samples when creating a particular application form. It is important for the form that you will use to be highly-usable which is why proper selection of specifically-formatted forms are essential within the process.